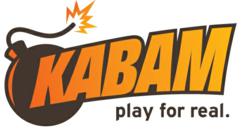 Redwood City, Calif. (PRWEB) March 01, 2012
Kabam™, the leading developer of hardcore social games, today announced its title Kingdoms of Camelot: Battle for the North™ App for iPad, iPhone, and iPod touch is now available on the App Store. The new title builds on the heritage of the award-winning massively multiplayer social game Kingdoms of Camelot®, which has attracted over 15 million players worldwide, taking gamers into Britain's medieval North for a deep, Arthurian-style game of strategy and empire building. The release marks not only the first opportunity for players to experience Camelot's dramatic, engaging saga on iPad, iPhone, and iPod touch, but the first time Kabam has brought its signature hardcore strategy MMO gameplay to mobile devices. This inaugural free-to-play mobile release will be followed with additional mobile games as Kabam continues to expand its product lineup and platforms.
Kingdoms of Camelot: Battle for the North is an original game exclusively designed to re-envision the mythology and gameplay style of Kabam's popular strategy title for the Multi-Touch interface of iPad, iPhone, and iPod touch. Featuring an all-new story and characters, the robust game immerses players in a persistent world where they can compete and cooperate with thousands of other players in real time. As the game begins, savage Picts have overrun Northern Britain after the death of King Lot of Lothian. Lot's widowed queen, Morgause, appeals to her half-brother Arthur for help. Playing as a powerful knight in King Arthur's court, gamers are challenged to answer Arthur's call and save the Kingdom.
"Kingdoms of Camelot: Battle for the North offers a deeply engaging mobile MMO experience gamers can play anywhere on their iPhone, iPad, or iPod touch," said Andrew Sheppard, President of Kabam Game Studio. "We've applied all the knowledge we've gained building the leading free-to-play hardcore strategy games on the web to bring our first entry to the rapidly growing mobile games space. This new game will bring the 75 million iOS game players a stellar free-to-play MMO. We have more mobile games on the way later this spring."
Kingdoms of Camelot: Battle for the North works with iOS devices including iPhone, iPad, and iPod touch, featuring rich graphics with a medieval, hand-painted feel. Players are immersed in a world of Arthurian fantasy, with lush green fields for growing crops and a picturesque city map that gamers build out by placing a variety of functional structures. A succession of quests guide new players to develop their first city, from building their first cottage to training troops to creating or joining an Alliance with like-minded knights to save—or pillage—the kingdom.
"We listened when our players asked us to bring our style of gameplay to iOS so they can get the rush that comes with real time, synchronous MMO-style alliance battles right on their iOS devices," said Matt Ricchetti, VP Mobile of Kabam. "We took care to create an experience that captures the essence of our strategy games while being tuned for fun and playability on a Multi-Touch interface—essentially, Kingdoms of Camelot: Battle for the North takes the best parts of the PC MMO experience and puts it right in your pocket."
As they found a new kingdom and battle savage invaders while trying to save Morgause, Arthur's knights will battle with the Picts and other players for resources, gold, and might. Players will build cities, grow and manage resources, raise armies, research alchemy to increase their powers, command knights, engage in real time chat with players, and enter into large-scale Alliances. Joining an alliance is a critical part of the game, as Alliances allow players to engage in massive, real-time battles with hundreds of players. Completing the MMO-style experience, players can participate in tournaments and other events for rewards and bragging rights.
The Kingdoms of Camelot: Battle for the North App is available for free from the App Store on iPad, iPhone, and iPod touch or at http://www.itunes.com/appstore. The game will be launching in English, with French, German, Spanish and Italian versions coming soon thereafter.
For more information on Kabam, visit our official site at http://www.kabam.com, and also our Facebook page at http://www.facebook.com/kabam.
Assets can be found at:
ftp.oneprstudio.com
Login: Kabam_Media
Password: Play4Real!
Folder: Kabam Mobile Launch
About Kabam
Kabam is the leader in the free-to-play, hardcore social games arena that is transforming the traditional gaming industry. The company's studios focus on combining the best elements of traditional and social gaming to appeal to a growing audience of gamers looking for highly immersive social games on PC, mobile, and tablet platforms. Recent Kabam titles include The Godfather™: Five Families™, Dragons of Atlantis™, Edgeworld™, the award-winning Kingdoms of Camelot® and the company's first mobile game Kingdoms of Camelot: Battle for the North™. Kabam games are currently available for play on Google+, Facebook, an ever growing number of global social networks and online channels, as well as mobile and tablet. Founded in 2006 with headquarters in Redwood City, CA, Kabam has built a team of game industry professionals committed to creating deeply engaging games that delight our players. More information about Kabam can be found at http://www.kabam.com.
All trademarks or registered trademarks are property of their respective owners.
CONTACT:
Anne Marie Stein | Kjell Vistad
ONE PR Studio (for Kabam)
510-893-3271
annemarie (at) oneprstudio (dot) com | kjell (at) oneprstudio (dot) com
###