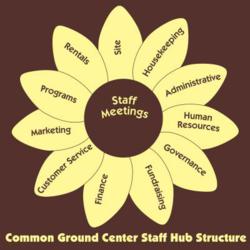 Decision-making is obviously a big piece of getting things done. Everyone must be comfortable sharing their opinions, be willing to engage in active listening, and be open to compromise.
Starksboro, VT (PRWEB) March 12, 2012
Since its inception in 1994, Common Ground Center, a non-profit retreat center and family camp in Starksboro, VT, has been a place that honors people's creativity and cultivates community involvement. The Center's founders, Jim Mendell and Peg Kamens, created programs that depended upon community participation. Participants in their signature family camp program were invited to share their talents with others and help out with light chores, which helped keep Camp affordable for all. When Common Ground Center incorporated as a non-profit in 2006, some of the more formal structures for community participation emerged, including a governing board of directors and an Annual Meeting every fall. But as Co-Directors, Jim and Peg continued to maintain their position as the organization's visionaries and leaders.
It was not until recently that the organization began to shift away from a structure that placed Jim and Peg at the helm. As the Co-Founders began to think about their eventual retirement, they wanted to put a structure in place that would distribute responsibility more evenly amongst the Center's six year-round staff members. They hoped that by putting a more cooperative decision-making system into place, the staff would be able to take ownership of the work that they do and fulfill the Common Ground Center mission for years to come.
Juggling the day-to-day work of managing a 700-acre site, planning family programs, and coordinating weddings and site rentals would be impossible without clearly delineated roles, especially in the absence of a traditional executive director. An essential part of the new structure is staff "hubs," teams of two to four staff members, each focusing on a specific area of work such as marketing or programs. Each hub selects a leader who ensures that hub meets and documents its decisions. The hubs report each week at a staff meeting, where they can add items to the agenda for discussion or decisions. The staff can delegate items for hubs to work on, and in turn, the hubs can delegate tasks to individuals. The layers of accountability allow staff members to get work done efficiently while maintaining transparency.
The second part of the system that staff devised is peer mentorship. Pairs or trios of staff have regular conversations to discuss how things are going for them professionally and personally. This helps to ensure that any concerns that people have are addressed sooner rather than later and that staff members get regular one-on-one feedback. Along the same lines, each staff meeting begins with a "check-in" in which everyone has the opportunity to ask for or offer support with tasks and acknowledge anything that might affect their work.
Decision-making is obviously a big piece of getting things done. A benefit of a small staff is the ability to reach agreement without a formal voting process. Creating space for dialogue is an important part of this process. Everyone must be comfortable sharing their opinions, be willing to engage in active listening, and be open to compromise. In cases where staff interests may conflict with the interests of the organization as a whole, the board of directors is asked for assistance with those decisions.
Not everyone can—or should—be involved in every single decision, but it is vital that everyone be on board with decisions that are made. That's why Common Ground Center's staff members are involved with decisions that affect their work, even when it comes to tricky topics like salaries or budgeting.
The new cooperative structure is, of course, a work in progress. "We try to acknowledge that we all make mistakes, but that we're all in this together," says Co-Founder Jim Mendell. Common Ground Center is a living, breathing, organization, and it will be exciting to see how it evolves in the years ahead.
Common Ground Center is a cooperatively run non-profit arts, education, and outdoor recreation and retreat center. We are dedicated to bringing together and strengthening diverse families and communities through unique program offerings and facility rentals. Our beautiful site demonstrates our commitment to environmental sustainability.
###