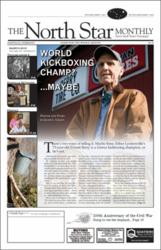 Instead of an online "subscription" system, the new site offers an online "newsstand."
Danville, VT (PRWEB) March 21, 2012
In January, Northstar Publishing, of Danville Vt., debuted new Web sites for the North Star Monthly, The Kingdom Guide and Living Healthy.
Since the company's last Web site upgrade three years ago, visitor numbers per month have increased at a significant rate. In an effort to improve the digital footprint of Northstar Publishing, the company worked with Notchnet, Inc. to find a way to offer all publications digitally, in their entirety, while maintaining the current print subscription and newsstand model.
This was relatively straightforward for the Kingdom Guide and Living Healthy, both free publications. However, it became clear that the North Star would require a lot of careful consideration since its readership is primarily by subscription. Since the complete "package" of the North Star is important, breaking it up into articles scattered across cyberspace would be detrimental.
Instead of an online "subscription" system, the new site offers an online "newsstand." In this system, a visitor to the Web site can pay $1.75, the current newsstand price, and view a complete copy of the current issue as a downloadable file. The reader then has access to that file online until the next issue is published, or it can be saved to their computer.
The benefits of this system are the ability to view the North Star in its original and intended state. Also, it allows readers to download not only to their computers, but also to mobile devices and tablets. The system seems to work exceptionally well with iPhones and iPads. In fact, these devices still allow the reader to digitally flip pages one by one, just like they were reading the print copy.
The Kingdom Guide and Living Healthy publications will also be downloadable in their original format.
Some of the functionality from the old sites will be carried over, such as the ability to subscribe to the print edition, pay advertising invoices, and browse archives.
Over the past year, the Northstar Monthly subscriber list has grown by 8 percent and Northstar Publishing hopes this change will give tech-saavy readers a convenient delivery method for reading Northstar publications, and at the same time, provide a new benefit to advertisers through free online advertising and click-able links.
For our many readers who still prefer to hold a printed copy in their hands, they can still expect to find Northstar Publishing magazines in your mailboxes and local stores.
###