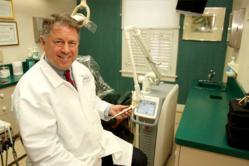 "Now, a personal Fountain of Youth can be found at Richmond Smile Center"
Richmond, VA (PRWEB) March 09, 2012
Imagine fuller lips, fewer wrinkles, a tighter neck, restoring a youthful smile and reversing the aging process with new non-surgical FaceLift Dentures. The future of dental happiness is now. Dentures don't have to look like dentures anymore.
There are basically three types of dentures. There are economy dentures, traditional dentures, and the new FaceLift Dentures. FaceLift Dentures provide the underlying facial support which will plump lips out, lessen wrinkles, and help fill out the face. In fact, because of this new revolutionary fitting technology, there is a new ease in chewing and FaceLift Dentures are going to fit better than any other type of dentures. Patients absolutely love them.
Experience the New, Amazing Non-Surgical Facelift. The astonishing FaceLift dentures work to restore and smooth the jaw line. With traditional dentures, the face can sag and look aged. At the Richmond Smile Center, we design new smiles to fit the natural beauty and structure of the face. Dr. Charles Martin has the touch of an artist, so every patient will feel more relaxed and leave feeling more beautiful and confident. Now, a personal Fountain of Youth can be found at the Richmond Smile Center.
Dr. Martin and his entire team want to help restore every smile to full health and beauty. The complimentary FaceLift consultation allows free exploration of the amazing impact this technology can have.
In the consultation, Dr. Martin will:
Complete a full oral examination
Provide a smile evaluation
Review before and after photographs
Listen to special needs and concerns
Fully explain various denture options
Review possible procedures
Answer every question
Dr. Charles W. Martin is the founder of the Richmond Smile Center, a technologically advanced dental practice that delivers dental implant surgery, dental sedation, cosmetic dentistry and complex care dentistry. The center is renowned for its smile makeovers. Dr. Martin, a graduate of Virginia Commonwealth University School of Dentistry, is a Master in the Academy of General Dentistry, Diplomat of the American Board of Oral Implantology/Implant Dentistry and has taught at Georgetown University and the Medical College of Virginia. He is also the author of Don't Sugar Coat It: The Story of Diabetes and Dentistry, Are Your Teeth Killing You? and This Won't Hurt a Bit! The Consumer's Guide to Dentistry. For an exciting video with before and after views of this amazing technology and more information about the Richmond Smile Center, visit his website at http://www.richmondsmilecenter.com