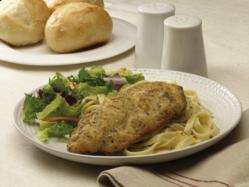 The convenience of stovetop cooking, combined with the unique, crispy texture, makes Skillet Crisp Tilapia the perfect way to get more seafood into your diet.
Gloucester, Mass. (PRWEB) March 01, 2012
Gorton's latest addition to the freezer aisle is making waves with seafood lovers. All new Skillet Crisp Tilapia has become an instant favorite with consumers, because it offers high quality tilapia and the convenience of frozen seafood, with the unique benefit of stovetop cooking, so it cooks up crisp and delicious from your skillet.
All new Skillet Crisp Tilapia is made with 5 Star Tilapia®, inspected for quality and safety and hand-selected for the mildest, flakiest, whitest fillets. With no MSG, artificial flavors or colors, and made with real herbs and spices, Skillet Crisp Tilapia is available in two flavors - Garlic & Herb Seasonings and Classic Seasonings with Lemon. These new fillets are also lightly coated, so you get more fish in every bite and 25% less calories and fat than traditional battered fillets. But what makes Skillet Crisp Tilapia truly unique is that it goes from the freezer to your skillet to your table in just 18-25 minutes (depending on your stovetop and pan), so you can cook a great-tasting, quality seafood meal without having to turn on the oven.
"Skillet Crisp Tilapia has quickly become a favorite in our house," said Zach Soolman, Director of Consumer Marketing and a father of two. "My whole family loves the taste, so it's easy to serve a dinner that my wife and I enjoy and that my kids like too. Plus, being able to cook it in the skillet makes it perfect for nights when we want a quality seafood meal without taking the time to pre-heat the oven."
Skillet Crisp Tilapia was created to be cooked in the skillet, as opposed to in the oven, which speeds up prep time. This convenience, combined with the unique, crispy texture, makes Skillet Crisp Tilapia the perfect way to get more seafood into your diet. The USDA's MyPlate dietary guidelines recommend eating seafood twice a week because of the health benefits associated with this lean protein. Skillet Crisp Tilapia offers a new crisp and delicious way to get seafood on your plate, without having to turn on the oven. And, whether preparing to serve with a few easy side dishes, or choosing to spice it up further with a recipe like Skillet Crisp Tilapia with Garlic and Tomatillo Salsa, all new Skillet Crisp Tilapia provides a delicious, unique new way to enjoy seafood.
Gorton's Seafood is very excited to bring this innovative new meal to consumers, and they are supporting it with national advertising that can also be viewed at http://www.gortons.com.
Skillet Crisp Tilapia can be found in freezer aisles across the United States. Gorton's offers downloadable coupons and a free digital newsletter that provides monthly recipes and coupon offers on the Gorton's website. In addition, Gorton's Seafood is on Facebook and Twitter where consumers may connect with the brand in social media and be the first to hear about news, contest announcements and special promotions.
About Gorton's Seafood
Founded in 1849, Gorton's is one of America's oldest continuously operating companies. Headquartered in Gloucester, Massachusetts, Gorton's continues to be the innovative leader in the seafood industry. Gorton's full line of frozen seafood products includes Breaded and Battered Fish Sticks and Fillets, Grilled Fillets, including Tilapia and Salmon, Premium Fillets, Grilled Shrimp, Flavored Fillets, Tenders, and Popcorn Shrimp. Gorton's products are available nationwide in better independent and chain grocery stores. Gorton's proudly stands behind its products with its "Trust the Fisherman Guarantee," which represents an unwavering commitment for over 160 years to providing the best-tasting, highest quality seafood meals. The Gorton's Fisherman, in his yellow slicker and rain hat, has become an icon symbolizing this commitment. For more information, please visit http://www.gortons.com or call 1-800-222-6846.
###