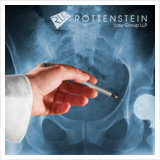 New York, NY (PRWEB) March 05, 2012
In a feature article published on February 28, the British peer-reviewed medical journal BMJ asserted that "[h]undreds of thousands of patients around the world may have been exposed to toxic substances after being implanted with poorly regulated and potentially dangerous hip devices." BMJ writer Deborah Cohen suggests: "Despite the fact that these risks have been known and well documented for decades, patients have been kept in the dark about their participation in what has effectively been a large uncontrolled experiment."
In 1990, the BMJ article reports, the World Health Organization International Agency for the Research on Cancer "released a monograph listing hexavalent chromium as a proved carcinogen; trivalent chromium a potential carcinogen; and cobalt ions a probable carcinogen." But only recently, after the early failure of thousands of hip implants, "have tests from the London Implant Retrieval Centre, a centre that tests prostheses, confirmed that trivalent chromium is the ion being released [by metal-on-metal implants]."
In the United States, Cohen notes, the FDA considered the parts of metal-on-metal total hip replacements to be "like other heads, cups and stems already in use." Consequently, the devices could be—and were—cleared for sale through a less rigorous process, which requires no clinical studies.
The BMJ piece quotes Michael Carome, deputy director of the not-for-profit consumer advocacy group Public Citizen's Health Research Group: "This is one very large uncontrolled experiment exposing millions of patients to an unknown risk. We will only find out about the safety of these devices after large numbers of people have already been exposed."
Moreover, just hours before the BMJ report was published, the UK Medicines and Healthcare Products Regulatory Agency issued an advisory to surgeons, telling them that patients who have received metal-on-metal implants should have annual checkups for life, according to a press release from the MHRA.
In August of 2010, DePuy, a subsidiary of Johnson & Johnson, announced a global recall of its ASR Hip Resurfacing System and ASR XL Acetabular System—both of which had been approved under the FDA's less stringent 510(k) process. 93,000 persons worldwide had an ASR device implanted before the recall, according to data published by DePuy itself. DePuy recalled its ASR devices after the National Joint Registry of England and Wales made public data showing that, within five years, about 12% of recipients of the hip resurfacing system and about 13% of recipients of the acetabular system needed corrective surgery, as reported by the New York Times. The ASR devices fail at higher-than-normal rates because the metal components grind together, eroding the implants and poisoning the surrounding tissues and blood stream with cobalt and chromium ions.
Rochelle Rottenstein, principal of the Rottenstein Law Group, says, "We implore anyone with a friend or relative who has received a hip replacement device since 2003 to reach out to that person and recommend that he or she consult a physician immediately and then speak to a qualified personal injury lawyer."
The Rottenstein Law Group maintains a DePuy Settlements Information Center at http://www.depuysettlement.com. The site has features that allow for easy sharing, including links for automatic posting on Facebook and Twitter, specifically to enable visitors to spread the word about the DePuy ASR recall.
About THE ROTTENSTEIN LAW GROUP
The Rottenstein Law Group is a New York-based law firm that represents clients in mass tort actions. The firm was founded by Rochelle Rottenstein, who has more than two decades of experience as a lawyer, to represent clients hurt by defective medical devices. http://www.rotlaw.com
Contact:
The Rottenstein Law Group LLP
Rochelle Rottenstein, Esq.
1259 Veeder Drive
Hewlett NY 11557
(212) 933-9500 (office phone)
(212) 933-9980 (facsimile)
rochelle(at)rotlaw(dot)com
http://www.rotlaw.com
###