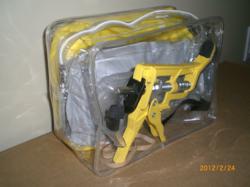 Collingwood, Ontario, Canada (PRWEB) March 01, 2012
Technicraft Product Design Inc. will be introducing Shutgun, the Fire Sprinkler Head Shut-Off Tool and its new companion product, the Water Protection Kit, to the members of the American Society for Healthcare Engineers (ASHE) from March 4th to the 7th, 2012 at the Planning, Design and Construction Summit in Phoenix, Arizona.
Shutgun, designed by a Toronto District Fire Chief of 35 years, provides fire fighters and emergency response teams with a one-handed, easy-to-use fire sprinkler shut off tool. Shutgun's fusible link ensures that if a fire re-kindles the link will melt and the tool will release. Consequently, there is no need to shut off the water supply to the sprinkler system until it is time to change the head. Also, while the system is being drained, water will not be escaping from the activated head. Shutgun works to shut off most types of sprinkler heads including the recessed style now popular in commercial complexes.
Accidental fire sprinkler head activations have a very real impact on multiple levels when they happen in a Hospital or Health Care facility. An accidental fire sprinkler head activation in a hospital not only disrupts patient care it has a very real cost in terms of the man hours dedicated to resolving the aftermath from water damage. The time required from maintenance staff through to the administration of insurance claims can be just as expensive as the loss of valuable equipment.
The amount of water that comes out of a fire sprinkler head can fill a bathtub in 2 minutes. It is not hard to fathom that every minute the water is not contained means the difference between a single room being out of service for a few days or multiple rooms on many floors being unoccupied for weeks.
One hospital Facility Engineer noted that about 20 accidental fire sprinkler head activations occur to every 1 heat generated activation. This mid-western Healthcare Facility purchased 400 Shutguns so they would have one on every floor of every building to reduce water damage associated costs in the future.
Greg Patterson, President of Technicraft Product Design Inc., says, "It became apparent that Hospitals have specific needs and we wanted to address these issues with our Shutgun as well as our Water Protection Kits." The Water Protection Kits include goggles, a plastic rain cape and boots. "What most people don't realize," Patterson continues, "is that the water pours out hard and fast and it can also be filthy from sitting in pipes for many years. The Water Protection Kit was designed to make using the Shutgun a simpler and cleaner process than it already is."
Shutgun, the Fire Sprinkler Deactivation Tool, is gaining traction as the 'must have' tool for hospital facility managers.
If you are going to the ASHE PDC Summit at the Phoenix Convention Centre from March 4th to the 7th make a point of stopping by the Technicraft Product Design Inc. Booth # 841 before you visit any other booth. The first 10 visitors to meet Greg and tell him that they have watched the Shutgun video from the http://www.shutgun.ca website will be given a free Shutgun.
Contact Info:
Technicraft Product Design Inc.
41 Elgin Road, Tremont Lane, Collingwood, Ontario Canada L9Y 3L6
Ph: 1 866 827-8711
Fax: 705 445-5891
infor(at)technicraftdesign(dot)com
http://www.shutgun.ca
###