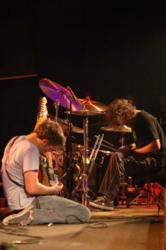 Cincinnati, OH (PRWEB) March 05, 2012
Hailing from Chicago, Illinois, Local H is a two-man wrecking crew, a powerhouse invigorated by the mania of former Triple Fast Action drummer Brian St. Clair's punishing backbeat, and driven by the distinct lyric and melodic vision of guitarist/vocalist Scott Lucas.
General admission tickets, $10 ADV & $13 DOS (plus applicable fees), go on sale Friday March 9 at 10 AM at http://www.ticketmaster.com, http://www.tafttheatre.org, the Taft Theatre Box Office and all Ticketmaster outlets including select Kroger stores. Charge by phone at 1.800.745.3000.
Having achieved mainstream success with their second album, As Good As Dead (Polygram), and fueled by the multi-format hit single "Bound For The Floor," Local H always has continued to bring the noise. Alongside writing, recording, and releasing records (including 1998's critically acclaimed Pack Up The Cats and last year's punk rock workout, The No Fun E.P.), Local H has maintained a remarkable touring schedule - and an incredibly loyal fan base to match - having "hit the road" with the likes of Stone Temple Pilots, Veruca Salt, Cheap Trick, C.O.C., Chevelle, and Burning Brides, to name a few.
On Whatever Happened To P.J. Soles? (Studio E Records), Scott and Brian flex their post-punk, alt-rock muscles with unabashed vigor and (somehow) equally unassuming rancor. For this, their fifth full length release, the band teamed with co-producer/engineer Andy Gerber (Caviar, Sullen) to create an emotional aural landscape built, at least in part, of influences ranging from echoes of 60's psychedelia to 70's punk rock, from the 80's indie underground to the sounds of the 21st Century.
Launching with the insistent fury of the syncopated, proto-industrial "Where Are They Now?", Whatever Happened To P.J. Soles? is a full power-hour of real rock-n-roll. From the angst-fueled knock on the Golden State ("California Songs") to the grunge-tinged bittersweet melancholia of "Heaven On The Way Down," from the call-and-response anthemic chorus of "Everyone Alive", to the nod-yourhead-mellow grooves of the title track and the album's reflective close, "Halcyon Days (Where Were You Then?)". Local H gives us a major dose of reality - both heavy and sublime - delivered with equal parts gusto, aplomb, and humility...
For at complete list of Taft Theatre shows visit: http://www.tafttheatre.org
Contacts:
For Taft Theatre: Rick McCarty | Rmccarty@memi.biz | 513.977.1087
For Local H: Jill Mango | Jill@jillmangomedia.com
###