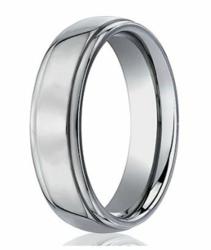 In the 2012 Spring Sale, a wide range of men's rings will be on sale at MWR.
Jensen Beach, FL (PRWEB) March 01, 2012
The Spring Sale at MWR is perfectly timed to offer savings for couples who are planning a spring wedding. While there are many other seasons of the year to buy wedding rings, spring is the season of romance and MWR is prepared with a sensational selection of traditional and alternative men's wedding rings. Prices have been reduced on the largest selection of traditional and alternative wedding rings for men.
In keeping with MWR's ongoing commitment to make a wide variety of men's rings available at affordable prices, their annual Spring Sale offers an additional discount off of their already competitive prices - plus free shipping. Men's rings are now available in a surprising variety of traditional and alternative metals, including the latest industrial metals like tungsten, titanium and cobalt. MWR has kept up with these new trends by adding several affordable and designer collections of alternative men's rings, while maintaining an impressive selection of traditional metals like gold and platinum. In the 2012 Spring Sale, a wide range of men's rings will be on sale at MWR.
The promotional banners for the Spring Sale say that MWR has the "Largest Selection of Traditional & Alternative Wedding Bands Available," and encourages visitors to "Shop Men's Wedding Bands Now." With the prices and selection offered on these quality men's rings, this is not bad advice. Shoppers will want to seize this opportunity to get their favorite styles for less at one of the Internet's best known jewelers. This online retailer is known to have the best selection of men's wedding rings on the web, including all the latest contemporary metals and styles. Couples who are looking at men's wedding rings for their upcoming spring wedding will not be disappointed with what Mens-Wedding-Rings.com has to offer. Their incredible array of men's rings in every style, size, and metal cannot be beat.
In their Spring Sale, MWR invites shoppers to say "I do" to unbelievable price reductions and free shipping on most orders. In addition to shopping this sale for wedding bands, many shoppers are in search of a gift for that special anniversary or romantic occasion. MWR starts their spring a little earlier than most jewelers because they want to make these low prices available to couples who are planning early spring weddings.
In their Benchmark collections, owners Roy and Judy Devine unveiled several new designer rings late last year, including Argentium Silver, designer diamond wedding bands and black seranite rings. These new styles have already been driving new traffic to MWR, but the sale will bring even more customers into the site to shop for rings.
The Spring Sale begins this week at MWR and will continue for several weeks. It is the perfect time to buy that special men's wedding ring or a sentimental gift for that special man. Customers appreciate the ease and affordability of buying men's rings at MWR because they can choose from the best selection of men's wedding bands and rings on the Internet. With many styles available through size 20 and the ability to shop for rings from home, shoppers are excited shopping for men's rings again.
About Mens-Wedding-Rings:
Mens-Wedding-Rings.com is a niche online jewelry store for men's wedding rings and bands. In this specialized retail environment, customers find the best quality men's traditional and alternative wedding rings. From major designer bands in traditional and alternative metals to non-designer rings in stainless steel, titanium, tungsten, sterling silver and cobalt, Mens-Wedding-Rings.com is a one-stop source for men's wedding bands and rings. Owners Roy and Judy Devine make it their goal to ensure their customers are completely satisfied, so they only sell high quality rings at excellent prices. All of their rings come with a 100% satisfaction guarantee, and their customers have come to expect the highest standards of service, selection and quality when they shop at Mens-Wedding-Rings.com. MWR offers the best selection of men's wedding rings on the Internet, many of which are available through size 20.
Contact information:
Roy & Judy Devine, Owners
Mens-Wedding-Rings.com
800.676.0363
http://www.mens-wedding-rings.com
Email: roy(at)mens-wedding-rings(dot)com
###