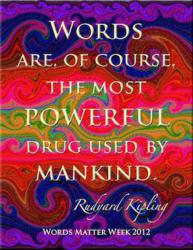 It's time to stamp out slop and drivel.
Ashland, VA (PRWEB) March 02, 2012
It's time once again to stamp out verbal slop and drivel. The annual Words Matter Week celebration spotlights words and their role in society. Writers, teachers, librarians, and word lovers everywhere are invited to participate.
"Words are the foundation of civilization," says Janice Campbell, Director of NAIWE. "In every aspect of life, personal or professional, words form the basis of relationships with others. The written word preserves and transmits knowledge, evokes alternate worlds, and provides endless food for thought. Words Matter Week gives us the opportunity to celebrate words and focus on why they matter."
The National Association of Independent Writers and Editors (NAIWE), along with partner sponsor Photographer Blue, is once again offering a free downloadable poster and a list of suggested activities for libraries, bookstores, churches, nursing homes, bloggers, and more, all located at the Words Matter Week Website, http://WordsMatterWeek.com. During the week of celebration, blog topics will be posted Monday through Friday, and visitors are invited to respond to the blog topic and post a link to their response on the event website.
For more information, visit http://WordsMatterWeek.com.
###