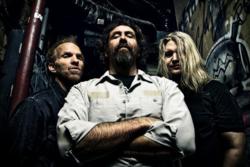 Cincinnati, OH (PRWEB) March 05, 2012
Founded by three teenagers in Raleigh, North Carolina in 1982, Corrosion of Conformity began as an underground band and went on to transform heavy music, challenging boundaries and serving as what Decibel Magazine called "a crucial stylistic lynchpin in the bridge between metal and punk" that "irrevocably reshaped crossover's sonic possibilities.
General admission tickets, $18 ADV & $22 DOS (plus applicable fees), go on sale Friday March 9 at 10 AM at http://www.ticketmaster.com, http://www.tafttheatre.org, the Taft Theatre Box Office and all Ticketmaster outlets including select Kroger stores. Charge by phone at 1.800.745.3000.
Thirty years and many changes later, COC's original trio is back with a self-titled release for London-based independent Candlelight Records. "Corrosion of Conformity isn't a comeback album or an example of diminishing returns," Invisible Oranges observed. "It's a testament to immense talent and the elusive endowment of staying power."
In the summer of 2010, COC's founding members—bassist/vocalist Mike Dean, drummer/vocalist Reed Mullin and guitarist Woody Weatherman—gathered at Weatherman's farm in Virginia to get to work again after a five-year hiatus. With longtime vocalist/guitarist Pepper Keenan busy working with metal supergroup Down back home in New Orleans, COC began playing together as a three-piece for the first time since the mid-1980s.
That's the same lineup behind 1985's Animosity, widely considered a crossover classic. While the trio re-visited songs from that album and 1987's Technocracy, this was not just an exercise in nostalgia, and they soon began writing new material.
"It was a little strange at first but pretty quickly it felt like we hadn't missed a beat," recalled Dean.
After touring the U.S. and Europe with bands including Goatsnake and Clutch, and appearances at festivals like Deathfest and Roadburn,, COC joined with longtime producer John Custer in early 2011 to begin recording what would be the band's first release since 2005's critically acclaimed In the Arms of God, which featured Stanton Moore of Galactic on the drums filling in for an injured Mullin. COC recorded all 11 tracks at Dave Grohl's Studio 606 in Los Angeles with help from Foo Fighters' engineer John Lousteau. During the sessions, Custer commented on COC's uncanny ability when in the studio to "behave as a single organism."
Corrosion of Conformity was officially released on February 28, 2012, with artwork that features a revamp of the band's iconic spiked-skull logo by Seldon Hunt (Melvins, High on Fire). Critics and fans alike have greeted it warmly.
The original members of COC are excited to be working together again. "Mike, Woody and I essentially learned how to play music together and cultivated our own style, sound, and unspoken language," said Mullin. "Re-bonding with them musically has been the greatest thing that's ever happened to me."
TORCHE, the four-pronged Floridian/Georgian riff colossus, are set to release their new full-length release, Harmonicraft, this spring on Volcom Entertainment. Led by vocalist/guitarist Steve Brooks (formerly of doom dropouts, Floor), Jonathan Nuñez and Rick Smith (also members of the grindcore outfit, Shitstorm) and new guitarist, Andrew Elstner, (former vocalist/guitarist for St. Louis' Riddle of Steel), TORCHE have been steamrolling the underground-metal scene since their 2004 inception and made big waves in 2008 with the release of Meanderthal, their second full-length album. Winning accolades from both the underground metal scene that had been the band's main support up until then as well as a whole new crop of fans who were just taking notice for the first time; the mainstream indie rock community. With outlets like Pitchfork, Spin, Paste and Stereogum piling praise upon the band for their super heavy yet totally accessible brand of melodic metal, TORCHE soon found themselves on top of the underground metal heap, not to mention plenty of Year-End lists, most notably grabbing the #1 spot on Decibel Magazine's Top 40 Albums of 2008.
For at complete list of Taft Theatre shows visit: http://www.tafttheatre.org
Contacts:
For Taft Theatre: Rick McCarty | Rmccarty(at)memi(dot)biz | 513.977.1087
For Corrosion of Conformity: Liz Ciavarella-Brenner | earsplitpr2(at)aol(dot)com
For TORCHE: Chris Hnat | chris(at)230publicity(dot)com | 212.675.8959
For Black Cobra: Dave Brenner | earsplitpr(at)aol(dot)com
# # #