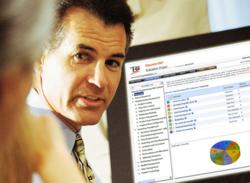 "TEC's extensive data combined with a state of the art decision support system strengthens our value proposition and ultimately helps our clients achieve success." - Mark Woolley, Director, CSS
Montreal, Quebec (PRWEB) March 01, 2012
Montreal technology company, Technology Evaluation Centers(TEC) has recently partnered with Corporate System Solutions (CSS), to broaden TEC's reach of providing technology assessment and software selection services within the North American market. TEC's partner programs offer consulting firms the opportunity to utilize TEC's extensive research, industry-leading decision support technology - TEC Advisor, selection methodology and expertise to win new business while also providing improved services to existing clients.
CSS Director Mark Woolley commented, "The strategic partnership with TEC represents a significant advance to realizing our objectives in delivering medium to large scale enterprise software selection and evaluation projects. TEC's extensive data combined with a state of the art decision support system strengthens our value proposition and ultimately helps our clients achieve success."
TEC, a world leader in software advisory services has formed strategic partnerships with consulting firms in different regions to deliver the company's technology and services around the world with the advantage of having a local consultant to provide face-to-face service. Technology Evaluation Center's global partnerships currently include consulting partnerships across Western Europe, North America, and Australasia.
Lorne Goloff, VP Selection Services at TEC said of the new partnership, "We're really proud to be working with CSS as our new partner. They have an excellent consultancy business and we believe with this new partnership, they will be able to deliver an incomparable service to their clients."
To learn more about CSS's consulting services in Canada, visit http://www.corporatess.com.
For more information about Technology Evaluation Center's partnership programs, visit TEC Consulting Partnerships.
About Technology Evaluation Centers
TEC helps organizations choose the best enterprise software solutions for their unique business needs – quickly, impartially and cost-effectively. TEC's online Evaluation Centers, containing IT research and extensive knowledge bases, are the leading resource for IT decision makers around the world. By combining that information with a proven methodology, unique Web-based software selection platforms, and years of software selection expertise, TEC delivers an unmatched range of online software evaluation and selection services that bridge the gap between enterprise decision makers and the vendor/ value-added reseller (VAR) community.
About Corporate System Solutions Inc
CSS specializes in enterprise system selection, evaluation and performance improvement. Founded in 1994, CSS has built an exceptional transformation track record with clients in the UK, Canada and the United States improving clients' business performance and efficiency using technology as a change agent. CSS is an independent company, with no vendor affiliation, experienced in delivering profit improvement for client's unique characteristics and requirements.
Press Contact
Caroline Silver
Marketing Manager
Technology Evaluation Centers
E: csilver(at)technologyevaluation(dot)com
P: 514.954.3665 x401
Mark Woolley
Director
Corporate System Solutions Inc
E : maw(at)corporatess(dot)com
P : 416.840.5576
###