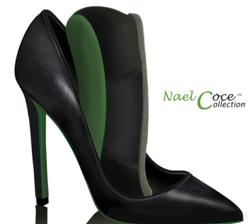 No longer sacrifice comfort for style
Baltimore, MD (PRWEB) March 01, 2012
Baltimore native Sheena Young is launching "Nael Coce Ambi Collection", a new line of eco-friendly high heel shoes that have a built-in flat shoe that are comfortable and have anti-bacterial features.
Young, a chemist working on her Ph.D., is unveiling the new footwear, with their distinctive green soles, at a launch party, 8 p.m. – 1 a.m. Saturday at the Milan Restaurant and Lounge, 1000 Eastern Avenue, Baltimore, Md. The $35 event will feature shoe giveaways, shoe sales, a fashion show and a performance by Mario, the Grammy-nominated singer who also is a Baltimore native. A portion of the proceeds from shoe sales will go to the Women's Funding Network, a global initiative that helps fund women's businesses. To purchase tickets, go online to http://www.naelcoce.com/launchparty.html.
"This project all came about one New Year's Eve when I grew tired of wearing my high heels, but didn't want to walk barefoot," said Young, who earned her undergraduate degree from Spelman College and her masters degree from Johns Hopkins University. "This is the perfect solution for all of us women who want to wear trendy, fashion-forward high heel shoes and want the comfort of wearing flats. They provide a simple solution to painful high heel shoes."
The patent-pending footwear, currently available in black or gold glitter, is two shoes in one, available in sizes 5 to 11. They are a stylish 4-inch-heel made from earth friendly materials and a comfortable flat shoe that easily slips in and out of the high heel shoe. The insoles are made from natural organic fiber that is lightweight, hypoallergenic and non-toxic. The shoebox is made of recyclable paper that can be carried as a bag. Future styles will be unveiled at the fashion show, including a bridal line.
Nael Coce, a division of ECOclean Corporation, a corporation that provides eco-friendly consumer products, is planning to launch a series of products in the months ahead. To interview Sheena Young or learn more about the shoes, contact Neil Foote, Foote Communications, LLC, 214.448.3765, neil(at)neilfoote(dot)com.
###