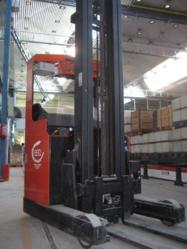 Newport, DE (PRWEB) March 01, 2012
TotalTrax, Inc. is pleased to announce their participation as an exhibitor at the LogiMAT 2012 International trade fair for distribution, materials handling and information flow in Stuttgart, Germany.
At LogiMAT 2012 TotalTrax will be featuring the latest in Smart Forklift Truck technology including their optical vehicle tracking and automated inventory data collection solutions. In addition to tracking technology solutions, TotalTrax will also be showcasing their exclusive line of Equipment Monitoring products (previously distributed by ShockWatch). Utilized for impact detection, vehicle access control, and fleet management data collection and reporting, the TotalTrax line of Equipment Monitoring and Fleet Management products provides safety compliance and improved productivity for your forklift truck fleet.
Stop by their NEW state-of-the art stand to see LIVE demos of:

TotalTrax vehicle and inventory tracking solutions
Equipment Monitoring and Fleet Management products
Safety products including a unique safety solution for warning and detection of pedestrians and vehicles
BONUS: AGV navigation demonstration presented by ASTI showcasing the Sky-Trax optical method for vehicle navigation and hybrid fleets.
See first-hand how TotalTrax solutions can deliver significant improvements in productivity, bring optimization opportunities to operations and deliver value straight to the bottom line.
Stand Location and Number: Stand 421 Hall 9
LIVE Demonstrations will be held at select times on Tuesday thru Thursday. Come visit our booth for times and demonstration details.
About TotalTrax, Inc.
TotalTrax, Inc. is the leading provider of real time vehicle, driver and inventory tracking technologies for manufacturing and warehouse operations. Offering a complete technology platform that transforms traditional material handling vehicles into "smart trucks", TotalTrax provides solutions that automate data collection and reporting for materials handling operations. With patented hardware, software, reporting and business intelligence tools, TotalTrax delivers substantial value in safety, fleet utilization, labor productivity and inventory accuracy. By automating vehicle usage, maintenance, impacts and lift truck load and location visibility data, customers are able to reduce or eliminate the inaccuracies normally associated with operator input. The resulting business intelligence provides the insight needed to implement immediate improvements resulting in documented productivity gains.
###