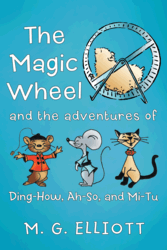 It's a passport for children.
FRESNO, Calif. (PRWEB) March 02, 2012
For every child whose young mind has pondered what their pets do when they're home alone, a new book is letting imagination run wild across the map.
In "The Magic Wheel" (published by WestBow Press), author M.G. Elliott cultivates the creativity of young readers. With the ever popular and comforting take from animals' perspectives, Elliott presents a glimpse into the secret lives of three adventurous pets. When the wise hamster, a mischievous mouse and a brave Siamese cat join together while their human children are at school, they become a daring trio that travels in a magic wheel across the world.
"Their curiosity takes them to the edge of a volcano, to the Northern Lights in Greenland, to San Francisco's Fisherman's Wharf," says Elliott. "It's a passport for children."
Touching on themes of cultural tolerance and the spirit of cooperation, The Magic Wheel brings young minds to various locations in both the U.S. and in foreign countries. Additionally, the book expands on religion, providing an uplifting message based on Christian values.
The book's characters, inspired by some of Elliott's 40-year-old drawings, find both danger and excitement in their journeys around the world, and it's Elliott's hope that such content makes the minds of today's children believe anything is possible.
"These whirlwind adventures combine discovery, humor and faith," she says. "Many young children today are not developing a love for reading, and it's up to us to change that."
"The Magic Wheel"
By M.G. Elliott
ISBN: 978-1-4497-3049-9
Retail price: $17.95 (sc)
About the author
M.G. Elliott has been writing and drawing since early childhood. Winning the grand prize medal for fiction in a high school competition was the encouragement she needed to continue writing, and several years later as a journalist, Elliott was the features editor of a daily English-language newspaper in Taipei, Taiwan.
Additionally, Elliott has served as a ghostwriter for an Academy-Award winning actress, the public relations director for a Christian television station and the publicist for a historical museum. She resides in Dinuba, Calif., with her calico cat, Keiki.
EDITORS: For review copies or interview requests, contact:
Jessica Kiefer
Phone: 317-602-7137
Email: jkiefer(at)bohlsengroup.com
(When requesting a review copy, please provide a street address.)
###