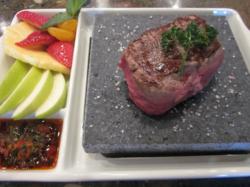 Rok turns an ordinary at-home meal into something truly extreme.
San Jose, CA (PRWEB) March 01, 2012
The Rok turns an ordinary at-home meal into something truly unique -- primitive, yet modern -- and incorporates all of the senses into the cooking and eating process: sight, smell, touch, taste and sound, making for an "extreme" and entertaining experience. With Rok's Home Cooking sets, rocks are heated on the stove for 10-20 minutes depending on burner type (electric, glasstop or gas), then taken to the table, where they retain their heat for up to 25 minutes. Sprinkle a little high-grade salt onto the Rok's surface, and they're ready to begin cooking up one's favorite lean proteins and vegetables. The following 10 hot rock entrees are sure to wow any guest.
1. Filet Mignon (try stuffing it with crab shitake pate with Bearnaise sauce on the side)
2. Rib-eye (trimmed center cut with creamy horseradish on the side)
3. Salmon with lemon dill or honey mustard sauce on the side
4. Jumbo Prawns with mango ginger chutney on the side
5. Ahi Tuna with pickled ginger, wasabi and soy on the side
6. Swordfish with avocado and tequila salsa on the side
7. Chicken with Thai peanut sauce on the side
8. Lamb tenderloin with mint jelly on the side
9. Pork tenderloin (try getting one pre-marinaded then cut into 2" thick pinwheels)
10. Flank Steak Pinwheels (pound steak flat and stuff with a) blue cheese, b) spinach & Parmesan, c) cheddar & jalapeno).
Rok dishes are limited only by one's imagination. Basic dishes (i.e., meat on rock) are all that is required to maximize enjoyment of the system. For more information on Rok Home Cooking products, or to place an order, please visit http://www.rokcooking.com/consumer.
About Rok Modern Stone-Age Cooking
Rok is the leader in the design, manufacturing, and distribution of rock cooking products to restaurants and homes worldwide. For nine years, Rok has produced and offered a compelling cooking product to restaurants and individuals looking to think (and cook) outside the box. The Rok Commercial Cooking System includes the Premier 650 High-Temperature Oven designed exclusively for use with hot rocks and delivering energy-efficient, health conscious food preparation with the educated restaurant owner in mind. The Rok Home Cooking system offers the most engaging and affordable interactive hot rock cooking experience for today's discriminating home cook who is looking to prepare healthier and more entertaining meals. To sum it up, Rok is "Modern Stone-Age Cooking at its Finest!"
###