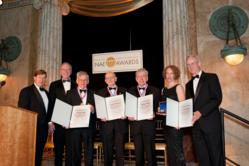 "More often than not, a technology's true impact on society is not recognized until decades after its development, when it is taken for granted as part of our daily routine," Shields said. "As a measure of true engineering success, Doc understood that."
Washington, D.C. (PRWEB) March 01, 2012
The National Academy of Engineering (NAE) honored the inventors of the liquid crystal display (LCD) – T. Peter Brody, George H. Heilmeier, Wolfgang Helfrich, and Martin Schadt – with the Draper Prize during a Feb. 21 ceremony in Washington.
The Draper Prize, which recognizes engineers whose accomplishments have significantly benefited society, is considered the Nobel Prize of engineering, and includes a $500,000 award. Heilmeier, Helfrich and Schadt were present at the ceremony. Brody died in 2011; his daughter accepted the award on his behalf.
Charles M. Vest, president of the NAE, noted during the ceremony that the 2012 honorees' invention has become the primary medium through which people consume information, enabling devices including smartphones, flat-screen televisions, and computer monitors.
Earlier in the day, Heilmeier, Helfrich, and Schadt discussed their invention during a panel discussion at the Benjamin Banneker Academic High School, a magnet school in Washington. The inventors told the students about the challenges that they overcame in developing the LCD – both technical and institutional in nature.
The inventors had worked at companies where some of their superiors were concerned that the LCDs either would not benefit, or worse, could pose a threat to their current business.
Nonetheless, the LCD "in our lifetime, became ubiquitous," as Helfrich put it during the award ceremony.
The Charles Stark Draper Prize was established and endowed by Draper Laboratory in 1988 in tribute to its founder, Dr. Charles Stark "Doc" Draper, who pioneered inertial navigation.
In a video shown at the awards ceremony, Draper President James Shields noted that "engineers seek to impact society, but they don't necessarily seek fame and fortune."
"More often than not, a technology's true impact on society is not recognized until decades after its development, when it is taken for granted as part of our daily routine," Shields said. "As a measure of true engineering success, Doc understood that."
Draper Laboratory
Draper Laboratory is a not-for-profit, engineering research and development organization dedicated to solving critical national problems in national security, space systems, biomedical systems, and energy. Core capabilities include guidance, navigation and control; miniature low power systems; highly reliable complex systems; information and decision systems; autonomous systems; biomedical and chemical systems; and secure networks and communications.
###