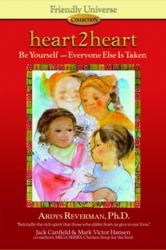 Minneapolis, MN (PRWEB) March 02, 2012
Author Ardys Reverman has been praised around the world for her innovative work as an educator on the marvels and mystery of the brain. This March, her two highly touted books from the Friendly Universe Collection, heart2heart: Be Yourself—Everyone Else Is Taken and Turning Point: Journey of Self Discovery are being re-launched.
heart2heart: Be Yourself—Everyone Else Is Taken helps parents discover their child's special gifts with a SQ personality quiz.
Turning Point: Journey of Self Discovery will help guide children to discover their promise, identify triggers that cause relationship conflicts and help parents get a better understanding of their child's specific learning style.
These two titles are receiving rave reviews.
"We are all different. Dr. Reverman has captured those differences in this work. So that everyone in the family of man can feel comfortable and accepted." –Lendon H. Smith, MD
"The Synergy Pals rekindles the rich spirit that those who differ from us give to our lives, to explore the world from four points of view and compare that world to our won with those who matter most in work and play." –Jack Canfield & Mark Victor Hansen, co-authors of the mega-series Chicken Soup for the Soul.
Ardys Reverman, PhD is internationally acclaimed as an innovative educator. She has a BA in Liberal Arts & Education, an MS in Special Education and her PhD in Neuro-Psychology. For more information go to http://www.friendlyuniverse.com.
###