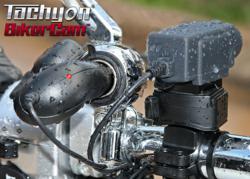 One of the best features is the unlimited recording while plugged into a 12V outlet.
Lewisville, TX (PRWEB) March 05, 2012
The BikerCam utilizes a wide-angle lens that captures more of the road and your fellow bikers. The audio quality of this camera is also exceptional. In addition, the BikerCam possesses infinite recording-loop technology which allows it to record over 8 hours on a 32GB card (sold separately). Once the card capacity has been reached, it will begin to recycle the earliest files while continuing to record. Essentially this means that the BikerCam is a road warrior's must-have accessory for recording your favorite road trips.
Included with each BikerCam is a Rainproof Cover which will protect it from almost any degree of rain and dust. Charging and mounting the camera are unaffected when using the cover.
When mounted to the new Quick-Release Handlebar Mount, the camera can be plugged into your bike's 12V outlet for continuous charging and simultaneous recording. The handlebar mount itself is designed to remain securely attached to your bike while the camera can very easily be removed from the mount at any time. When removed, the fully-charged camera can also be used to record videos away from your bike.
The BikerCam is also capable of taking time-lapse photos. One photo will be taken every two seconds. Each photo is time and date stamped, which is extremely useful when there is a need for documenting unsafe drivers or accidents.
Like all Tachyon cameras, the BikerCam could not be easier to use. It is ready to go right out of the box and its simple, one-button operation eliminates any confusion for its users. The cameras are also capable of plug-and-play on a PC or a Mac.
The BikerCam comes with our 12V Charge n' Record Charger for charging from a 12V outlet, such as a standard cigarette lighter in any vehicle. Optional accessories include a charger for plugging into a 110V–240V outlet, which allows for continuous recording at the home or office. This makes the multifaceted BikerCam ideal as a security system as well.
The BikerCam is the same size and weight as the current OPS HD camera (1.2 OZ, 2.9 X 1 X 1 Inches), but it is designed with special hardware and software allowing for the continuous-loop recording capability, which makes it perfect for touring. The BikerCam also boasts the same patented 8-way mounting system which allows for of an unparalleled range of mounting positions - allowing the user to rotate the camera through the 12, 9, 6, and 3 o'clock positions, as well as forwards or backwards. And this can all be accomplished very easily while the BikerCam rests in the mount.
When unplugged from the charger, the BikerCam can record over four hours of video on a single charge, and time-lapse photos can be taken for twice as long. The camera is equipped with a built-in lithium rechargeable battery which is very helpful when filming in colder weather, such as on skiing or snowboarding trips. This internal battery, tightly enclosed within the case, is designed to prevent loss of footage due to shock when engaging in extreme activities.
Standard mounts included in the OPS HD camera package are the Contour Mount, for mounting to curved surfaces such as the side or tops of helmets or fenders, a standard Tripod Mount that will attach to any ¼-20 inch universal tripod screw, and a Clip Mount with multiple angles of rotation making it perfect for caps, collars, or straps. If you are a gun owner, you may also want to check out our Picatinny Rail Mount and GunCam™ accessories.
The BikerCam bundle (the complete OPS HD camera package, the 12V Charge n' Record Charger, and the Quick-Release Handlebar Mount) can be purchased for only $189.99.
About Tachyon, Inc.
Lewisville, TX based Tachyon Inc., is the premier innovator of durable, extreme helmet cameras. The Tachyon camera's ease-of-use, durability, recording time and quality, make Tachyon the trusted and go-to helmet camera source for people who engage in a wide-range of extreme activities.
Tachyon, Inc. is an accredited member of the Better Business Bureau.
Tachyon®, BikerCam™ and GunCam™ are registered trademarks of Tachyon, Inc.
PR Contact:
Dave Lancaster
1-972-353-0888
support(at)tachyoninc(dot)com
For additional information, please visit:
http://www.tachyoninc.com/bikercam.php
https://www.facebook.com/tachyonxc