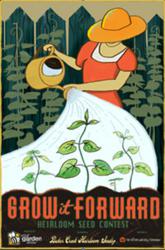 Part of our mission with GreenDeals is to not only promote sustainable companies but to also showcase events and content to help consumers live a greener, more sustainable life.
Los Angeles, CA (PRWEB) March 01, 2012
GreenDeals, a green marketplace connecting green businesses and sustainable consumers has partnered with YourGardenShow.com to promote their "Grow it Forward" social contest campaign launching on March 1, 2012.
Gardeners across all fifty states and Canada are joining the heirloom revolution on YourGardenShow.com beginning March 1, 2012, in a mission to grow over 1,400 heirloom plant varieties this season. The free social network for gardeners is partnering with the Baker Creek Heirloom Seed Company to launch Grow it Forward, the social contest designed to preserve the diversity and legacy of heirloom plants for the benefit of future generations.
Contestants will share seeds of knowledge through photos, videos and journal entries using YourGardenShow's free online social networking platform. Each entry increases the chances of winning and gets logged in an interactive timeline - called the GLOG, or garden log - that tracks gardening observations and know-how for use by growers, phrenologists and scientists, now and in the future.
Jonah Mytro, Director of GreenDeals said: "Part of our mission with GreenDeals is to not only promote sustainable companies and deals, but to also showcase events, contests, and green tips and content that helps consumers live a greener, more sustainable lifestyle. The Grow it Forward campaign launched by YourGardenShow.com is a great way to help promote local gardening and create a social platform to share local gardens across the country."
Kristen Mobilia, Director of Operations with YourGardenShow.com commented: "YourGardenShow.com is excited about joining forces with Green Deals for the 2012 Grow it Forward heirloom contest. The ability to provide our members additional ways to be environmental makes us smile. Strengthening the green market for consumers is one way that we can be stewards of the planet that we all share.
In addition to a series of prize giveaways sponsored by top gardening companies, one grand prize winner will receive accommodations and two round trip airline tickets to the 2nd Annual National Heirloom Expo in Santa Rosa, California, this September.
To see full contest details and find out how to enter, visit the Grow It Forward contest page on YourGardenShow.com.
About GreenDeals
GreenDeals launched in October 2010 to offer discounts and deals from local and national green businesses approved by Green America. GreenDeals offers daily deals, contests, content, tips, and promotes green living to thousands consumers across the US and Canada.
AboutYourGardenShow.com
YourGardenShow.com is a free online platform connecting gardeners of all experience levels with knowledge, tools and resources to inspire environmentally sustainable green spaces.
Through interactive features like the Glog (Garden Log), which tracks garden progress and real-time observations, and Citizen Science efforts that help build accurate baselines on the health of the planet, the website engages members and encourages community stewardship.
###