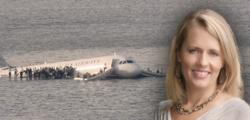 Under the fierce leadership of Jimmy Lewis, this year we will present the most vital and relevant information in the healthcare industry to the best and brightest in Georgia's healthcare arena,
says K. Whitmire, Managing Director HomeTown Health
Atlanta, Georgia (PRWEB) March 27, 2012
Executives from more than 50 hospitals will gather at Sea Palms Resort on St. Simons Island at the 12th Annual HomeTown Health Spring Conference on April 25-27, 2012 to learn how to survive the complex changes in healthcare brought about by Healthcare Reform. Keynote speaker Vallie Collins knows firsthand about survival and she brings personal experience, courage and strength to this year's conference! "Vallie Collins delivers a riveting account of her near death experience aboard US Airways Flight 1549 that landed in New York's Hudson River on January 15, 2009" said Dr Eric Carlson with University of Tennessee Medical Center. She will share the details of her experience during the flight and rescue of the event that has become known as the 'Miracle on the Hudson' that will inspire and motivate attendees not only how to survive, but to treasure each and every day.
HomeTown Health, LLC has been a pioneer for the survival of Georgia's rural hospitals for over 12 years and they have generated a stellar agenda packed with vital information that provides Georgia's healthcare industry leaders with the opportunity to learn how to survive in the new health care era of Navigant Redesign, Federal mandates, insurance exchanges and more.
While the health care environment may be complex and challenging, HomeTown wants to create a consortium of "SURVIVORS: Navigating the New Health Care Era" across the state of Georgia. HomeTown Health stakeholders will come together to address the key issues like Value based Purchasing, HCAPHS, HIPAA 5010, ICD-10, Readmission reduction, and hear from key state and federal leaders and reimbursement experts providing the answers and solutions required to survive.
With 13 years in health care, Kathy Whitmire, Managing Director of HomeTown Health, LLC.
says, "I am very proud to be a part of an organization so passionately focused on the survival of Georgia's rural hospitals. Under the fierce leadership of Jimmy Lewis, this year we will present the most vital and relevant information in the healthcare industry to the best and brightest in Georgia's healthcare arena."
HomeTown Health, LLC is an organization of rural and small hospitals, located throughout the state of Georgia, who collectively pursue ways to help these hospitals survive in this environment of tremendous budget cuts from the state and federal level. What began as a handful of community hospitals over twelve years ago has now grown into an organization of 55 hospital members and over 50 business partners.
Visit http://www.hometownhealthonline.com for more information about the Conference.
Members only.
http://www.hometownhealthonline.com/Events/2012SpringConference.aspx