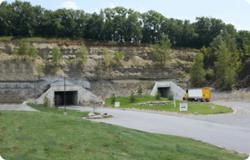 Meritex provides us significant room for growth and the security of a facility protected from weather and natural disasters. Steve Boyer-Suture Express
Lenexa, KS (PRWEB) March 01, 2012
Meritex announces five new leases and tenant expansions totaling 173,000 square feet of space at Meritex Lenexa Executive Park. Leasing activity in 2012 has started off strong following more than 370,000 square feet of leasing activity last year. "This winter has been fairly mild, but it's continued to stay 'hot' in our underground project," said Lonnie Cannon Property/Leasing Manager. "We continue to see tenants and prospects wanting to take advantage of the underground economies."
New to Meritex Lenexa Executive Park is Suture Express, the nation's leading distributor of specialized surgical products including suture adhesives, endomechanicals, electro-surgery, mesh, and pulse oximetry to the healthcare industry. Suture Express will be occupying a newly developed 48,000 square foot facility. Steve Boyer, Vice President Distribution for Suture Express, recently noted, "Meritex provides us significant room for growth and the security of a facility protected from weather and natural disasters."
JE Dunn Construction Company has leased 15,000 square feet of space to support a large Federal remodel project they are undertaking.
Cavern Technologies has expanded its data center service business by 22,000 square feet, now occupying a total of 56,000 square feet. "One of the real cornerstones of our business has been the unique relationship we have enjoyed with our Landlord. The space is important, but any success we have enjoyed can be directly attributed to the help, guidance, patience, and support we have received from the Meritex organization," wrote Pete Clune, CEO Cavern Technologies.
Media Services/Shred-Time has expanded its space by 14,000 square feet, occupying a total 36,000 square feet of space, in order to accommodate their high customer retention rate and new business. "We have appreciated the responsiveness of the Meritex management team," stated Robert Rippentrop, President of Media Services, "they respond quickly to our needs and offer suggestions to help solve any issue."
Select Brands has signed agreements for a 24,000 square foot facility and a 50,000 square foot facility to accommodate their sales growth. Select Brands is a national sales and marketing organization for small kitchen appliances and other electric household products.
Company Information: Meritex is a private real estate investment and management company that acquires, develops, owns and operates commercial real estate, primarily institutional grade, multi-tenant industrial properties. The Company owns, leases, and manages 8.9 million square feet of commercial real estate in 7 markets in the U.S. Its portfolio consists of multi-tenant industrial, office and subsurface industrial properties. The Company's properties are located in Atlanta, Columbus, Denver, Houston, Indianapolis, Kansas City, and Minneapolis-St. Paul. Additional information can be found at the Company's website http://www.meritex.com.
###