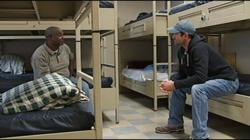 "It was so overwhelming to watch this segment of the show, and we just felt like we had to do something to empower this mission and these people"
Columbia, South Carolina (PRWEB) March 02, 2012
ePawnMarket.com owners Daniel A. Delnoce and Andy M. Anderson were on set for WIS TV's "Newswatch" as industry experts and consumer advocates for the online pawn shop industry. While waiting their turn to be on air guests they were privileged to watch the Oliver Gospel Mission's segment on the homeless. "It was so overwhelming to watch this segment of the show and we just felt like we had to do something to empower this mission and these people" said Daniel A. Delnoce.
Often thought of as a seedy and cold hearted business that prays on the weak ePawnMarket not only works to change that perception but also is constantly giving to the community and helping out. "WIS TV Anchor Ben Hoover tried to live as a homeless individual for three days and struggled conceding that so many people all across the country have to live this life day in and day out with little to no help for years at a time" said Andy M. Anderson. "We just felt compelled to jumpstart the "Hope In Hard Times" Hope-A-Thon before we even left the set" continued Anderson. The Hope-A-Thon was scheduled to start three days after the "Newswatch" segment aired. With ePawnMarket.com's $500 jump start the Hope-A-Thon donations started before the phone lines even opened. "We aren't stopping here, simply log into our website, epawnmarket.com and make a donation and we will match additional contributions made through our website site up to an additional $500" said the online pawn shop owners.
Giving back to local communities and helping traditional brick and mortar pawn shops obtain online pawn loan leads ePawnMarket continues to establish itself as the premier online pawn shop in the country.
About ePawnMarket.com
ePawnMarket is one of the world's largest online pawn shops that offers secured pawn loans using luxury items of value that you already own as collateral that can be shipped via Federal Express. Utilizing luxury watches, jewelry, handbags, gold, silver, precious metals, collectibles, and digital SLR cameras as collateral you can obtain fast cash safely and discretely from the comfort of your own home. ePawnMarket.com offers free shipping and insurance on all items you buy, pawn, or sell. By offering our "best deal guarantee" customers can rest assured they will receive the ability to obtain fast cash without credit checks or the hassle of cumbersome paperwork due to bad credit. Can't ship your item? That's no problem! We have partnered with hundreds of local pawn shops around the country to offer you fair and honest rates and terms that benefit both the consumer and local pawnbroker.
###