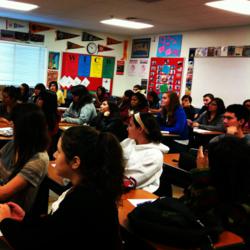 San Diego, CA (PRWEB) March 01, 2012
San Diego Law Firm was selected to speak to Mission Hills High School (San Marcos) A.V.I.D. II and III students about the importance of creativity and the idea of passion when choosing a college and the path to success. San Diego Law Firm is known for its unique recruiting and hiring approach which has subsequently led to the firm receiving such prestigious awards as One of the Top 10 Best Places To Work by San Diego Business Journal. San Diego Law Firm Community Relations Manager, Lacey Stenson, spoke on behalf of the firm to several A.V.I.D. classrooms on career positions available to college graduates within the legal industry aside from being an attorney or paralegal.
The A.V.I.D. program (an acronym which stands for Advancement Via Individual Determination) is designed to help middle achieving students—B, C, and even D students- (grades 4-12) who have the desire to go to college and the willingness to work hard prepare for and succeed in colleges and universities. The course teaches students how to study, read for content, take notes, and manage time. Students also participate in study groups, motivational activities and career investigations that guide them in reaching their educational goals. According to the California Department of California, "A.V.I.D.'s mission is to close the achievement gap by preparing all students for college readiness and success in a global society."
The A.V.I.D. program invites distinguished members from the San Diego professional community to speak with students on influential topics like leadership, determination, passion, and the journey to college. Speakers are asked to address the various jobs found within their industry, respective criteria for employment, the day to day responsibilities associated with their role in the company, and their personal journey.
"The program is designed to speak to students who don't normally have a family tradition of attending college. With that said, these students typically view college solely as an unattainable resource used only to become a widely known profession –such as a doctor, lawyer, or teacher. Having the opportunity to speak with these students and narrate that college can be an affordable vehicle used to study your passion and discover your strengths in hopes of realizing a tangible career is invaluable. Teachers like Mrs. Corneilson are teaching students daily that their creativity and passion can transform into a full-time paying job, and bringing in speakers from the local San Diego community who support that notion is a magical thing. I love what I do. I'm not an attorney or a paralegal, but I am immersed in the legal industry, and I have the opportunity to work with clients to ensure they have an incredible experience all the same. Many students aren't familiar with positions within a law firm aside from an attorney or paralegal. I love that I'm able to speak to that thought and answer any questions they may have," says Lacey Stenson.
Mission Hills High School A.V.I.D teacher Jan Corneilson has been teaching for 24 years, 16 at San Marcos High School and eight at Mission Hills High School. She adds, "Teaching A.V.I.D. and all four levels of English-Language Development at Mission Hills has re-energized me. I feel so lucky to be able to say that, at year 24, I get up every morning anticipating a great day with my students."
Per the California Department of Education, more than 4,500 schools in 48 states and 16 foreign countries offer the A.V.I.D. program. In addition, 74% of A.V.I.D. students were accepted to a four year college in 2011.
About San Diego Law Firm
Located in North Park, San Diego Law Firm has a reputation for outstanding ethics in the marketplace, as recognized by the Better Business Bureau. The firm serves clients in a variety of matters, including business and real estate law; bankruptcy; divorce, support and custody; accidents and injuries; lawsuits and disputes; and wills, trusts and probate. To learn more about San Diego Law Firm, visit http://www.sandiegolawfirm.com
###