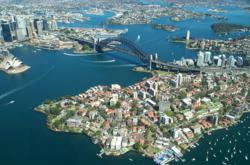 With The Reserve Bank of Australia (RBA) keeping the official interest rate on hold at 4.25 per cent, Sydney property investors should be cautious, Said: Scott O. Talbot of MortgageeProperty.com
Rhodes, Sydney, Australia (PRWEB) March 02, 2012
The Receivers and Managers have appointed MortgageeProperty.com, to market and list the remaining properties for sale on domain real estate and realestate.com with property Investors urged to take advantage of the falling Sydney Property Market.
As the average house price in Rhodes climbs above the magic $1m mark, buyers and investors are taking advantage of sliding property market and landing a rare bargain. Said, Scott O. Talbot of MortgageeProperty.com
Three Townhouse units and two Apartments on Marquet Street, Rhodes, are now available for viewing and offers. The three bed-roomed, multi-bathroomed Townhouse offer secure garage space and parking for four vehicles, plenty of additional space and rooftop terraces to enjoy great views. With a current valuation of $1m and offers to purchase between $860,000-$960,000 (offers invited) and one townhouse leased at $52,000 per year, property investors can secure a healthy return.
The pair of Apartments are both two bed-roomed and roomy within as well as having a private balcony outside to enjoy everything the Sydney weather can provide.
"These properties would be ideal for younger and growing families and investors ready to move, would soon enjoy comparably high rental yields on the properties because of the desirable location" Said, Scott O. Talbot of MortgageeProperty.com
Rhodes is a well served with transport and leisure amenities and the properties are within walking distance from Rhodes Station and McIlwane and Rhodes Parks.
Interested parties should contact Mortgageeproperties.com, to organize viewings and offers.
Contact Scott O. Talbot to arrange a priority, private viewing.
###