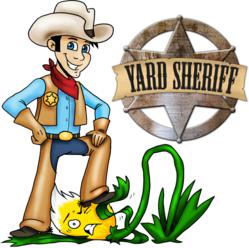 I can't express how thrilled we are to be part of the Greater Tulsa Homebuilders Association as well as Oklahoma's premier lawn and garden show
Tulsa, OK (PRWEB) March 01, 2012
Yard Sheriff, a full-service lawn care company in Tulsa, will make its official debut at this year's show, along with a special guest appearance from its very own Yard Sheriff mascot. The cute and lovable Yard Sheriff will be on hand to give out balloons and toy Yard Sheriff dolls to kids, as well as to offer a warm Oklahoma "howdy" to folks visiting the Yard Sheriff booth.
"We wanted this to be a fun experience for both kids and parents," said Yard Sheriff President and CEO, Shannon Watterson. "Everyone who drops by our booth will see how family-friendly we are and how eager we are to make an impression on Tulsans with our debut at the Greater Tulsa Home and Garden Show. There's really no other company in Tulsa who tries harder to please its customers than we do or who delivers the quality lawn care that's so much a part of the Yard Sheriff name."
Show attendees will have the opportunity to meet the new Yard Sheriff mascot all four days of the home and garden event, as well as receive advice from the Yard Sheriff staff on everything from landscaping and lawn care techniques to information on Yard Sheriff's premium, full-service products and services. This is the first time Yard Sheriff will be participating in the show as a vendor and as a new member of the Greater Tulsa Homebuilders Association.
"I can't express how thrilled we are to be part of the Greater Tulsa Homebuilders Association as well as Oklahoma's premier lawn and garden show," said Watterson. "We're looking forward to talking with people about our services and showing them the Yard Sheriff brand of excellence... with attention to detail they'll love and with a quality that will make their neighbors green with envy."
The Greater Tulsa Home & Garden Show is Oklahoma's largest and longest-running home and garden products trade show, with more than 450 exhibitors. Showcasing trends in landscaping, gardening and home improvement, the event is a virtual one-stop shopping experience for everything Tulsans need for a superior looking home and yard.
About Yard Sheriff
Founded in 2010, Yard Sheriff is a Tulsa based company with a passion to deliver unmatched quality, full-service lawn care while also making an enduring difference in the lives of people living in the local community. Yard Sheriff strives to build long term relationships with its valued customers, relentlessly pursue breakthrough ideas on how it can serve its customers better, and to passionately give help to people in the Tulsa community who need it most. For more information on Yard Sheriff, please visit http://www.yardsheriff.com.
###