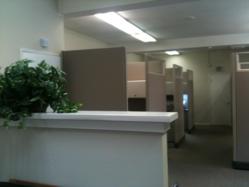 Santa Rosa, CA (PRWEB) March 01, 2012
KQ Insurance Services, an insurance agency that sells affordable medical insurance, underwent an extreme makeover and is sporting a new look. Recently, the Santa Rosa based company replaced about 85 percent of its office furnishings to make room for state of the art work stations, a conference room, and guest seating for workshops and special gatherings.
The three month long makeover was the brainchild of Angie Perez, former Office Manager and the new Latino Services Administrator for the company. "We're a busy phone service center. With an average of around 100 calls a day, it can get pretty noisy around here. In order to better-serve customers, we needed the acoustics to be toned down. Relocation was not the best solution, so we maximized on what we had. That necessitated sound absorbent wall partitions and work stations," said Angie. The main goal was to provide service representatives with a quieter work environment; however, there were a few extra bonus surprises along the way, such as each employee getting a plush, semi-private office.
It was quite an undertaking to keep the phones serviced in the midst of a construction zone. To minimize business interruption, the company handled the remodel in stages. It started with a major clean-up project. Nothing was sacred. Every nook and cranny, right down to the closet and supply cabinets, was trimmed of excess or unneeded furnishings. The computer network, electrical, and alarm system also had to be redone and coordinated with employees' schedules. Employees remained flexible, even working during the New Year's holiday to avoid the construction work.
"Angie has done a great job spearheading the expansion project. I'm very proud of my team and am excited that we are able to have a workplace where people can really excel", said John Hansen, owner and CEO of KQ Insurance Services.
About KQ Insurance Services
Since 2005, KQ Insurance Services has ranked as one of the top online individual and group health insurance agencies. The company consists of benefits specialists who provide personalized insurance services to individuals and businesses needing assistance with enrollment, quotes, and health plan questions.
###