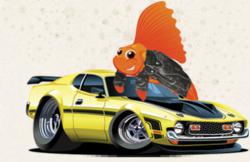 It's a crime that college is as expensive as it is, but as students and parents of students, it's your responsibility to make wise financial decisions in the present that can dramatically impact your future.
San Diego, CA (PRWEB) March 01, 2012
RoadFish.com men's lifestyle and finance magazine today urged parents and students to go through with FAFSA filing, even if they believe that their financial bracket will not qualify them for financial aid. RoadFish.com commented on the average amount of student loan debt today, and how getting state and/or federal aid and low-interest loans in the present can lower students' hefty loans in the future. FAFSA is linked to most of the country's federal and state grants, and counts as a prerequisite for federally subsidized loans.
The FAFSA, which stands for Free Application for Federal Student Aid, determines students' and families' eligibility for financial aid, including the Pell Grant, federal work-study programs, and federal subsidized student loans which carry a lower interest rate than private loans. The FAFSA application offers students consideration for nine federal student-aid programs and 605 state aid programs.
Mandi Woodruff of the Business Insider reports that FAFSA form is six pages long and includes a total of 153 questions—more than twice the number found on a federal tax form. In an interview with Mark Kantrowitz, publisher of Finaid.org and Fastweb.com, Kantrowitz offered some FAFSA tips such as not waiting until after you've filed your taxes to file for FAFSA, getting marital statuses straight on the application, making sure not to miscalculate certain assets, and above all never to fudge information. Kantrowitz stated that the U.S. Department of Education and the IRS are working hand in hand to crack down on families who provide fraudulent information on their FAFSA applications, and under-report their taxable income to try to obtain more aid. The current fraud rate is 4-5%, which the IRS and Dept. of Education hopes to lower in the coming year.
RoadFish.com's Senior staff writer is quoted as saying, "It's absurd the amount of debt students walk away from school with these days. It is just so, so crucial to obtain as much aid, scholarships, and grants as you can to help minimize your financial responsibility after graduation. Your best shot at that is FAFSA. Even if you think you won't qualify for much or anything at all, you sure as heck won't get anything if you don't apply. Do it! It's a pain in the butt form, and a few hours out of your life, but it could save you and your kids a bunch of money."
The U.S. Department of Education begins accepting FAFSA applications on January 1st each year, and the federal deadline is June 30th. Since most aid is provided on a first-come, first-serve basis, many families are scrambling to turn in their forms in than the June deadline this year. FAFSAonline.com recommends turning in the FAFSA paperwork as early as possible to maximize eligibility for aid. Though the federal deadline is not for a few more months, certain states, such as Maryland, Oklahoma, and Montana, have deadlines as early as March 1st to apply for state aid. Check FAFSA's website for a complete list of states and deadlines, as they vary state to state.
RoadFish.com feels that escaping college with as little debt as possible starts with filling out a FAFSA form, and stated, "We're in dire enough economic times as it is. Unemployment is high, credit report scores are low, debt is through the roof. It's a crime that college is as expensive as it is, but as students and parents of students, it's your responsibility to make wise financial decisions in the present that can dramatically impact your future."
The FAFSA form should be prepared each year by both current and prospective undergrad and graduate college students, and applicants who filled out and filed a FAFSA the year before are able to submit a renewal FAFSA form for the upcoming year.
About Roadfish
RoadFish.com is an online men's lifestyle and finance magazine targeted toward men in their 30s and 40s that have already attained a moderate level of success in life, and are striving toward more. It goes over current events of interest to this group, such things as exciting adventures, consumer interests, financial struggles, and dating tips, as well as ways to make more and save more money. It is a publication owned by Purpose Inc.
###