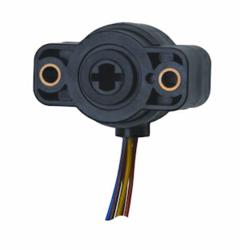 Goleta, CA (PRWEB) March 01, 2012
BEI Sensors' new Model 9960 Hall effect rotary position sensor is available in numerous standard configurations with fast, one week delivery for small quantities. Available configurations include various termination options, single or dual outputs and 24 active electrical angles. With 360 degree turn capability, Model 9960 can be used over a large range of rotary motion making it extremely versatile.
Packaged in a highly sealed (IP67) housing and utilizing non-contacting Hall effect technology makes the 9960 an exceptionally rugged and reliable sensor. Model 9960 is ideal for a variety of applications in harsh environments, including steering and pedal positioning for construction, agriculture and mining vehicles, marine steering and speed control, wheel and throttle position for material handling, and valve position for process control.
Configure your own version and request a quote.
About BEI Sensors
BEI Sensors, a brand of Custom Sensors & Technologies, serves the industrial, military/aerospace and transportation markets, providing an extensive product line, engineering expertise and unparalleled product support. BEI Sensors can supply a range of products from standard off-the-shelf products to completely customized solutions for any challenging application. The comprehensive product line includes absolute and incremental encoders, rotary and linear position sensors, potentiometers (wirewound, conductive plastic and hybrid), Hall Effect sensors, panel controls, electronic interface modules, wireless modules, and a variety of product accessories.
About Custom Sensors & Technologies:
Custom Sensors & Technologies (CST) is a specialist in sensing, control and motion products. Through its brands, BEI Kimco, BEI Sensors, BEI PSSC, Crouzet, Crydom, Kavlico, Newall and Systron Donner Inertial, CST offers customizable, reliable and efficient components for mission-critical systems in Aerospace & Defense, Transportation, Energy & Infrastructures, Commercial & Industrial OEMs, Medical, Food and Beverage and Building Equipment markets.
Focused on premium value offers and committed to excellence, CST, with 4,700 employees worldwide and sales of $660M US in 2011, is the dependable and adaptable partner for the most demanding customers.
# # #