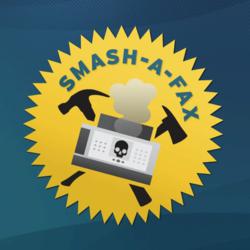 (PRWEB) March 01, 2012
MetroFax, a leading provider of Internet fax solutions and services, is launching a new Facebook video contest today. "Smash-A-Fax" will feature people smashing their old fax machines in a series of user-generated videos. The grand-prize winner will receive an iPad® and a one-year free subscription to MetroFax.
Participants can submit their Smash-A-Fax videos on the MetroFax Facebook page (facebook.com/MetroFax) beginning today. The first 10 video submissions will automatically receive a $25 Amazon® gift card.
MetroFax Facebook fans will play a key role in determining the winners by voting for their favorite Smash-A-Fax video in weekly competitions. Weekly competitions and voting begins March 15.
The grand-prize includes an iPad® 2 or iPad® 3 (dependent on release date) and a one-year free subscription to MetroFax. The second place video will receive a $200 gift card to Amazon®, and third place will receive a $100 gift card to Amazon®.
Throughout the contest, MetroFax will be posting blogs, tips and information on how to properly recycle old office equipment on their Facebook page and social networks. MetroFax encourages all participants to recycle their smashed fax machines at the nearest recycling center in their neighborhood.
About Smash-A-Fax
To be eligible for entry, participants must meet and agree to all the Official Rules available on the MetroFax "Smash-A-Fax" Facebook tab.
Smash-A-Fax is exclusive to MetroFax Facebook fans. To participate in Smash-A-Fax or for more information visit facebook.com/MetroFax.
About MetroFax
Founded in 1997, MetroFax is a leading provider of online faxing with service starting at $7.95 per month. The MetroFax no contract, no gotcha service includes a generous monthly allotment of fax pages with no extra charges for faxes to locations within the U.S., Canada, and Puerto Rico regardless of transmission time. Customers can choose inbound toll-free or local fax numbers in thousands of cities across the U.S. and Puerto Rico. For additional product information, visit metrofax.com.
Contact
MetroFax
metrofax.com
info(at)metrofax(dot)com
888-321-3121
MetroFax is a registered trademark of MetroFax, Inc.
MetroFax is a leading provider of Internet faxing with advanced features and flexible usage plans starting at $7.95 per month.
###