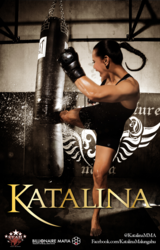 "I wanted to come all or nothing," says Malungahu. "I want to fight a champion because I see myself as a champion. I want to fight her because she's the most feared woman in the world. I'm out to prove that I'm the champion—that I can beat her."
Las Vegas, Nevada (PRWEB) March 01, 2012
MMA fighter Katalina Malungahu burst on the professional scene last year with one goal in mind: to take the 145-pound championship belt in Strikeforce.
A knockout-artist who loves to strike, she has thrown punches in her brief career that have knocked out each of her four opponents. The first fight was over in 26 seconds; the second ending with a haymaker punch straight to the face, resulting in putting her opponent to sleep.
"My most-feared weapon is my right hand," says Malungahu. "That's the hand that's knocked out all my opponents."
Behind the calm, poised demeanor is a beast ready to knock out whoever gets in the cage with her. Her brutal strength comes from being a natural athlete. A former rugby player, she started with boxing, training briefly with her uncle, Toni Fulilangi, who had been in the ring with George Foreman. She currently trains out of Xtreme Couture Gym with Dennis Davis, her main trainer. Additionally, she trains in all areas of MMA, including Brazilian Jiu Jitsu classes with Vinny Magalhaes, who just won the Abudabi World Grappling Tournament 2011.
"I train on the ground to get up and strike again because I love being a knock-out artist," she says, adding she also carries a dangerous kick. Her first knockout, in training, was actually with her left hand, and she knocked out a guy.
Grappling is about the only time Malungahu is "down." Her reputation as a tough fighter who delivers concussions that have put her opponents to sleep for four or five minutes has persuaded at least 11 other fighters to cancel the fights before they get hurt.
"They backed out; they didn't want to fight," says Malungahu, who is now being managed by Lana Fuchs and Tracey Smith of Star Status Management & Consulting, and is being sponsored by Billionaire Mafia, a Vegas-based lifestyle brand. "That's a big reason I went pro last year—because I was ready to fight and ready to win!"
Currently fighting at 155 pounds in the lightweight category, the 5-foot 6-and-a-half-inch fighter wants to get down to featherweight to fight Christine Cyborg. Although Cyborg lost her belt last year due to steroid use, Malungahu got into the sport to take her in the ring and earn the much-deserved belt.
"I wanted to come all or nothing," she says. "I want to fight a champion because I see myself as a champion. I want to fight her because she's the most feared woman in the world. I'm out to prove that I'm the champion—that I can beat her."
At 30, Malungahu has years left in her career. "For me, I don't plan to wait until I'm 35 to be the champion," she says. "I'm looking to take it this year."
Billionaire Mafia Entertainment is an independent music label and entertainment company, and a division of the Billionaire Mafia lifestyle brand. The full-service agency specializes in developing the careers of up-and-coming hip-hop, R&B, country, pop, rock, and techno & house artists. By working hand in hand with the lifestyle division and maximizing its resources, BME will turn rising stars into super stars while bringing honesty and integrity back into the industry.
Star Status Management & Consulting Firm is a full-service, multi-faceted consulting firm utilizing strategic alliances to service the specific needs of their clients, in the entertainment, music, sports, film and fashion industries by working to maximize the potential of each client, offering them the same opportunities, experience, and expertise available to larger companies in the marketplace, but with personalized attention and catering each objective of your Attack Plan to yours and/or your company's specific short-term and long-term goals, business and marketing plans.
###