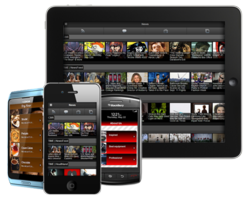 Create your own app in minutes
Sunnyvale, CA (PRWEB) March 01, 2012
WebMobi, a cloud-based HTML5 cross-platform mobile app creation company, released mobile app templates with custom features that target the needs of SMB professionals when engaging audiences.
With the School App, schools can create mobile apps to engage parents and provide updates about school events, making information accessible across all smartphones and tablet devices. Features such as click to call and integrations with popular web services including Google Calendar and Twitter enable providing timely updates to parents about important events and school news.
For restaurants, the Restaurant App allows owners to not only create a compelling mobile app for their restaurant, integrated features such as OpenTable make it easier for customers to make reservations directly from their mobile devices using the click-to-call functionality. Each of the mobile apps is specifically designed to meet the needs of the targeted verticals, simplifying the way users create mobile apps.
With these new app templates, businesses are able to instantly create a mobile app by simply customizing a readily available app and adding more custom features and content through the drag and drop functionality on the platform.
These templates make it easier for businesses to create specific mobile apps. The advantage of using these templates is that these have integrated different functions such as click-to-call, social media and location, making it easier for businesses to create a great app by just adding their content and customizing the UI.
WebMobi has also recently completed its integration with Box in its Mobile Form App, which allows businesses to easily collect customer data and enhances internal collaboration across mobile devices.
About WebMobi
Founded in 2011, WebMobi is a cloud-based SaaS platform that aims to provide its users with a competitive advantage when enhancing mobile presence. With its scalable cross-platform application development and user-friendly interface, WebMobi provides a fully integrated single solution that allows both consumers and enterprises to easily create and deploy customized mobile applications to engage their audiences. For more information, visit http://www.webmobi.com.
###