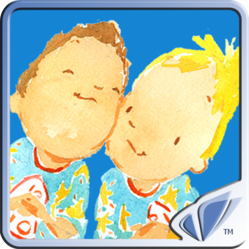 This is a wonderfully written and interactive children's book. If more children's books were like this I would download more for my daughter!
Boston, MA (PRWEB) March 01, 2012
When Pinwheel Books, an independent publisher of children's books in Brookline, MA, was looking for an economic way to turn its books into animated apps, there weren't many encouraging alternatives. The small company wanted to make high-quality, fun and interactive apps but it could not pay the thousands of dollars per project that third-party developers were quoting.
Luckily, the company found a powerful alternative and has now joined a growing number of children's books creators harnessing the power of user-friendly software to create professional-looking animated books. The company has now launched its first interactive book, titled Sam and Ben. "This project has been an incredible adventure for us," says Sylvia Pagán Westphal, publisher of Pinwheel Books. "By building this app in-house we not only saved money but had total control over the elements we placed on each page."
Based on its published print book,Sam and Ben features beautifully illustrated, interactive pages with hidden surprises, music and many activities that will delight children of all ages. The app was developed using the InteractBuilder software, a revolutionary platform by InteractBooks, LLC, that allows users to create sophisticated animations without coding knowledge.
The Story
Sam and Ben are twin brothers that look nothing alike and have very different personalities. Still, they have many things in common: their love of music, their fascination with cars, their curiosity for crawly creatures and even their passion for fashion. Above all, they are bonded by the love they share with their parents, older siblings, and each other.
The Animated App
With a simple tap or swipe, the Sam and Ben app turns into a virtual playground for kids. Some characters can be dragged through the pages, others become animated or make sounds when touched. There is a musical page where Sam and Ben play instruments. Kids can also play with several activity pages at the end of the book: they can color Sam and Ben, drag toys through a maze, draw with virtual crayons, or play a fun match game. There is an option to turn book narration on or off. The Sam and Ben App can be purchased for iPad and iPhone at the Apple iTunes Store and will soon be available for Android devices.
Praise for Sam and Ben:
"This is a wonderfully written and interactive children's book. If more children's books were like this I would download more for my daughter!"
–App Store Review
"The book is a portrait of a unique family with many cultural influences that come together and form two beautifully unique twin boys."
–Book Blog Momma
"The illustrations are just beautiful - my 3 year old couldn't stop staring at them."
–Amazon review.
About Pinwheel Books
Pinwheel Books is an independent publishing company specializing in children's books, e-books and animated apps. The company also offers animation services for publishers and authors. "Apps like these are changing the way children interact with parents through animated storytelling, and we are pleased to help our authors discover this new medium," says publisher Sylvia Pagán Westphal.
Sam and Ben was illustrated and animated by Nicole Gsell, senior creative associate at Pinwheel Books. She is a graduate of the Rhode Island School of Design.
About InteractBooks, LLC.
InteractBooks provides tools for non-programmers to create high-quality e-books, and other media in an interactive format that make effective use of touch-screen tablets and smartphone devices. Currently available for the iPad, iPod Touch and iPhone devices, the app will soon be running on Android devices including the Amazon Kindle Fire, Barnes and Noble Nook Tablet. The app is also being ported to run on Windows Phone devices later this year.
The InteractBooks App is available as a free download from the Apple iTunes App Store. Browsing the InteractBooks Store directly from the App, users can download from a growing library of interactive children's e-books (also known as InteractBooks), there are a couple of free books available for download too.
The InteractBuilder is also a free software download which runs on Macs and Windows PC's that works in conjunction with the InteractBooks App allowing users to create their own interactive books. With the help of a comprehensive library of video tutorials and a network of technical support, the tool has become the most effective resource for children's book authors, illustrators and presenters wishing to enter into the wonderful world of interactive media. In addition to featuring books in its own interactive book store, InteractBooks also offers the ability to publish interactive books as stand alone apps
###