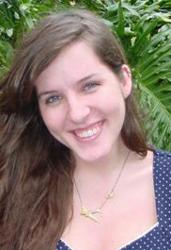 So, what's different about Temblor? Us - all of us. It's the group in Temblor Creative Group, after all... first-rate and producing first-rate work. Always with a smile
Manchester Center, VT (PRWEB) March 01, 2012
Temblor Creative Group, a strategic marketing and design firm based in Vermont, announced that Riley Moore and Christopher Conte have recently joined the company. Ms. Moore, a graduate of Champlain College with a degree in Multimedia and Graphic Design is now a Web Designer and Social Media Strategist at Temblor. Mr. Conte, a veteran of the United States Army who served in Afghanistan, is a Digital Marketing and Social Media Strategist.
Riley Moore previously worked at Createurs de Luxe, Chicago, where she was a website designer for a reseller of Hermes handbags. She also had her own design firm, Riley Moore Studio, serving the print and web design needs of the local area in southwestern Vermont, where her clients included the Manchester and the Mountains Regional Chamber of Commerce.
Christopher Conte served 4 years in the United States Army with the 10th Mountain Division, which included a tour of duty in the Chark District of Afghanistan where he was a Forward Observer. He was honorably discharged from the military last summer and moved back to his home state of Vermont. He is a disciplined autodidact, studying search engine optimization and social media marketing online with Marketing Profs University and other reputable online educational organizations, and achieving certifications of excellence.
Both Mr. Conte and Ms. Riley are graduates of Burr and Burton Academy in Manchester, VT.
Temblor principal and Creative Director Margaret Donovan said, "We are thrilled with the work that both Riley and Chris are doing with us. Their enthusiasm and knowledge are the perfect complements to our dynamic group of marketeers!"
Temblor Creative Group was formed in 2010 when John Conte and Margaret Donovan merged their separate marketing companies into one. A temblor is an earthquake, and their goal is to shake up the world of marketing. He said, "Margaret and I share a dynamic approach to helping clients, a gung-ho, go-gettum, knock-em-dead attitude that is full of energy and optimism. We are both enthusiastic about new media and yet still recognize the significant value of old media. And we both want to produce the very best work possible. So, what's different about Temblor? Us - all of us. It's the group in Temblor Creative Group, after all... first-rate and producing first-rate work. Always with a smile."
Temblor Creative Group's portfolio of web and print projects for clients throughout the northeast is available online at temblorcreative.com.
##