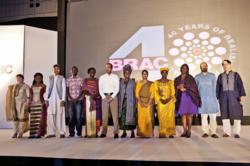 I am sorry to say that patriarchy remains entrenched in our social and religious practices.
Dhaka, Bangladesh (PRWEB) March 02, 2012
Sir Fazle Hasan Abed, founder of the world's largest development organisation, BRAC, called for innovative solutions to address the needs of the burgeoning youth population in developing countries in an address delivered in February celebrating the 40th anniversary of BRAC.
As dignitaries gathered in Dhaka, Bangladesh, to celebrate BRAC's 40th birthday, Sir Fazle, who founded the organisation in 1972, announced a new youth strategy as BRAC scales up operations in 10 African, Asian and Caribbean countries. He also called for doing away with "outdated approaches to teaching" in the developing world, calling most public education systems in the developing world unsuitable for preparing students for the 21st century knowledge society.
"You will be happy to learn that BRAC is in the process of developing a comprehensive strategy to help the vibrant, innovative and entrepreneurial younger generation of today to realize their potential, and be the agents of change within their communities," Sir Fazle said.
The chairperson, who could not attend the gathering for health reasons but delivered the address via a spokesperson for the organization, called for education reform in poor countries. "Unfortunately, public education systems in most developing countries are unfit and unsuited to prepare our youth for the 21st century knowledge society that we must aspire to," he said.
"Outdated approaches to teaching must give way to new techniques that teach our children not to memorize texts, but to think critically and solve problems creatively. We must give greater thought, and direct greater resources towards early childhood development, and social and emotional learning."
BRAC is the largest secular, private education provider in the world, with over 5 million students having graduated from its alternative primary schools, dubbed "second chance" schools targeting those left behind by official educational systems. Sir Fazle has been hailed as an innovator in the field of education, winning the inaugural WISE Prize for Education in Qatar, styled as a Nobel for the field of education, last year.
In his speech, BRAC's chairperson spoke of the "remarkable" progress of the organisation's home country, Bangladesh, "in almost every major indicator of human development" over the last 40 years. "Today, the progress we have made is the envy of most of the developing nations in South Asia and beyond," he said.
Infant mortality, for instance, has dropped from 200 per 1,000 live births to less than 50, and maternal mortality from 800 deaths per 100,000 live births to less than 200. Fertility rates have fallen dramatically as well: The average Bangladeshi mother now has just 2.7 children as opposed to 6.5 in 1972. Literacy rates have risen from 25 percent to over 65 percent.
"While it is true that no single organization can take credit for this amazing turnaround, we at BRAC can nevertheless take great pride in the role that we have played in support of governmental efforts to bringing about these successes," says Sir Fazle. "From immunizing children to popularizing the use of oral rehydration therapy, from providing essential healthcare through a cadre of barefoot health volunteers to providing safe places for mothers to give birth, from curing tuberculosis to improving sanitation, BRAC's work in public health has contributed to each of our country's achievements in the health sector."
Sir Fazle, who turns 76 this year, called on BRAC to remain a "trailblazing organization" as the leadership baton passes to a younger generation. "In these twilight years of my life, I feel a sense of comfort and satisfaction in knowing that we have an able and competent leadership team at BRAC," he said. "I am confident that this team will ensure BRAC achieves even greater success and impact when I call time on providing leadership to this organization that I have built."
A champion of girls' education and the empowerment of women, Sir Fazle lamented the relative lack of progress in those areas. "Gender equality remains the greatest unfinished agenda not only of my life's work but of our time. Although we have worked for the last 40 years to try to ensure that all citizens can live with dignity and respect and enjoy equal rights as human beings, I am sorry to say that patriarchy remains entrenched in our social and religious practices."
About BRAC
BRAC, formerly the Bangladesh Rural Advancement Committee, is a global development organization dedicated to alleviating poverty by empowering the poor to bring about change in their own lives. BRAC's holistic approach aims to achieve large scale, positive changes through economic and social programs that enable women and men to realize their potential. BRAC was launched in Bangladesh in 1972 and today reaches more than 138 million people in Africa and Asia through its programs that address poverty by providing micro-loans, self-employment opportunities, health services, education and legal and human rights services. Learn more at http://www.bracusa.org.
###