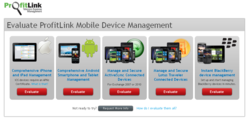 Our MDM solution has been operational since 2003 and is used to manage more than a million mobile devices. During this time, ProfitLink's MDM solution has delivered 99.99% reliability to users.
Plano, TX (PRWEB) March 02, 2012
There is a real security problem faced by large companies and corporations in today's digitally connected environment. Organizations need visibility into and control over their employees' mobile devices that are accessing company information assets whether the devices are employee-owned or provided by the enterprise. ProfitLink's MDM (Mobile Device Management) Solution provides a comprehensive set of capabilities that can quickly and easily configure devices for enterprise access and ensure that the corporate information and systems are secure. Interested companies can use the MDM demonstration to see and test viability of use for their mobile communications.
ProfitLink Telecom's Mobile Device Management solution is a 100% cloud based, true multi-tenant Software-as-a-Service. The advantages of going with MDM in the cloud are quick deployment, flexibility and scalability, automatic upgrades to support multiple and rapidly evolving mobile operating systems and lower total cost of ownership. ProfitLink MDM can also achieve complete integration with existing messaging infrastructure without installing an additional appliance or server in your data center.
MDM cloud solution helps Information Technology Officers and their teams:

See, secure and manage variety of platforms iPhones, iPads, Androids and Blackberries on your network.)
Push and manage mobile applications.
Enable scalable help desk operations.
"ProfitLink is not a startup. We've delivered eight consecutive record years of net profits, revenues and customer growth to our owners. Like our company, ProfitLink's MDM offering is secure, tested and has stood the test of time. Our MDM solution has been operational since 2003 and is used to manage more than a million mobile devices. During this time, ProfitLink's MDM solution has delivered 99.99% reliability to users.', said Eric Edstrom, ProfitLink co-founder. "Network World recently selected ProfitLink's MDM solution as the best available on the market "…based on its strong overall performance, particularly its ease of use'."
About ProfitLink:
ProfitLink was founded in 2003 by a group of telecom industry veterans. The company remains 100% owned by its founding officers. ProfitLink has helped more than 350 satisfied clients in all 50 US states reduce and control their telecom expenses.
About WSI:
WSI consultant, Patricia Jordan-Hinojos, and her team of Web Developers, Internet Marketing Experts and Performance Analytics Consultants have been helping small and medium businesses (SME's) leverage the Internet since 2003.
WSI is the world's #1 franchise offering Internet marketing services to suit the needs of multiple industries. The company has the world's largest Internet Consultants' network and a strong head office in Toronto, Canada. WSI Internet Marketing Consultants have helped thousands of small and medium-sized businesses realize their online marketing potential. By using innovative Internet technologies and advanced Internet marketing strategies, businesses can have a WSI Internet Marketing System tailored to their individual needs to elevate their Internet presence and profitability to new levels. In 2009, WSI was the proud recipient of 5 Standard of Excellence Awards at the Annual WebAwards Competition organized by the Web Marketing Association (WMA). WSI has been ranked the #1 Internet Services Franchise in Entrepreneur Magazine's Franchise 500 listing for 10 years in a row. Entrepreneur Magazine also ranks WSI at #13 among the Top Home Based Franchises and #49 in America's Top Global Franchises. With the support and cooperation of its customers, franchise network, employees, suppliers and charitable organizations, WSI aims to help make child poverty history through its global outreach program. For more information about WSI's offerings and business opportunities, please visit our website at http://www.WSIwebSMART.com
For more information on Patricia Jordan-Hinojos and WSI's offerings, please contact http://www.WSIwebSMART.com or by phone at 972-208-0926.
###