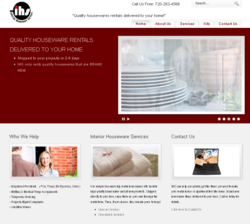 We are always looking for ways to optimize client resources while advancing their web presence and digital image.
Plano, TX (PRWEB) March 02, 2012
Certified Internet Marketing Consultant with WSI, announces today the company's launch of new design for Interior Houseware Services. The update included customized template design and migration to Word Press website platform. The project has cost payback in less that one year for the client from future cost savings.
The old site used a purchased template from Template Monster that just wasn't displaying correctly with newer versions of Firefox and other browsers and was becoming problematic. Besides that, the design was dark and difficult to read and follow. The new design is lighter and brighter which matches the company's need for an image of new and clean houseware rentals.
"While we were working the facelift for the look of the site, we recommended migration the whole site to WordPress. The simple open-source platform will allow the client to save on monthly hosting and that savings will cover the cost of the site design update in less that one year", said Patricia Jordan-Hinojos, WSI Internet Marketing Consultant. "We are always looking for ways to optimize client resources while advancing their web presence and digital image."
The old design had call-to-action on the home page that was too assertive and didn't convert. Rearranging the existing content without changing the URL structure was the best way to update the site without "breaking" any inbound links while making more sense of the content flow from page to page.
The new design includes simple text and graphic rotation in the main banner of the home page adding a professional look without being too busy. The sections at the bottom help to funnel the user to the pages that matter the most and further drive them towards action.
To succeed in the Internet age small and medium sized businesses (SMBs) need a great business idea, a solid revenue model and an evolving Internet Marketing strategy that continuously draws upon current best practices. WSI Consultants being trained and certified in Internet marketing, are able to offer Affordable Web Solutions, Build Targeted Traffic and help Convert more Customers Online – fulfilling the WSI slogan of the ABCs of Internet Marketing Success™.
Patricia Jordan-Hinojos has been helping small and medium businesses with their online marketing and web presence since opening the Dallas area (Plano, TX) office location in 2003. Patricia has been recognized as a WSI top 25 revenue consultant world wide and top ten in the USA. Patricia has been a featured speaker at WSI's Global Excellence & Innovation conference in Las Vegas speaking on how to leverage the WSI resources for better profitability.
See examples, case studies, and videos of successes with local and national companies and get more information at http://www.WSIwebSMART.com .
About WSI:
WSI is the world's #1 franchise offering Internet marketing services to suit the needs of multiple industries. The company has the world's largest Internet Consultants' network and a strong head office in Toronto, Canada. WSI Internet Marketing Consultants have helped thousands of small and medium-sized businesses realize their online marketing potential. By using innovative Internet technologies and advanced Internet marketing strategies, businesses can have a WSI Internet Marketing System tailored to their individual needs to elevate their Internet presence and profitability to new levels. In 2009, WSI was the proud recipient of 5 Standard of Excellence Awards at the Annual WebAwards Competition organized by the Web Marketing Association (WMA). WSI has been ranked the #1 Internet Services Franchise in Entrepreneur Magazine's Franchise 500 listing for 10 years in a row. Entrepreneur Magazine also ranks WSI at #13 among the Top Home Based Franchises and #49 in America's Top Global Franchises. With the support and cooperation of its customers, franchise network, employees, suppliers and charitable organizations, WSI aims to help make child poverty history through its global outreach program. For more information about WSI's offerings and business opportunities, please visit our website at http://www.WSIwebSMART.com
For more information on Patricia Jordan-Hinojos and WSI's offerings, please contact Patricia Hinojos, patricia(at)wsiwebsmart(dot)com or 972-208-0926
###