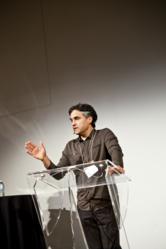 Toronto, Ontario (PRWEB) March 02, 2012
[IN]cubes proudly launched five of its disruptive tech startups at its Demo Day event yesterday, as the successful wrap up of its first class of entrepreneurs, and also announced the kick off of INtake 2. For [IN]cubes startups, the graduation reflected a culmination of hard work, long hours, excitement and the next step in the future of their businesses.
The Demo Day floor was a sea of over 250 VIP representatives of venture capital firms and angel organizations from across Canada, the USA and Europe, as well as those who tunedIN to the live stream on their official blog - http://incubes.tumblr.com.
The venue, Royal Ontario Museum, was befitting as the natural history relic provided the perfect nuance to the businesses being "released into the wild"; with their own intentions of changing human history.
During the key note, Bruce Croxon enlightened the crowd with his Dragon's Den style wisdom: "Entrepreneurship isn't for everybody. So called instant success sometimes takes 7 years. If you're not willing to dedicate all of your time to your business, there's someone out there who will." Bruce lead Lavalife to the position of category leader, achieving revenues of close to $100 million prior to its sale in 2004.
The most popular disruptive startup of the event, Gossipz, had investors and media lined up to speak about their anonymous community application. "It's high school gossip meets Facebook, which is ingenious. But there's a fine line between a great communication tool and a cyberbullying platform." said one investor.
Here's a brief overview from the graduated [IN]cubes startups:
Spidvid
"Make Videos Together"
Spidvid.com
Seeking capital of $500,000
Empower
"Tools, Tactics, Training for a Profitable Social Media Presence"
FBpower.com
Seeking capital of $300,000
Gossipz
"Provocative Anonymous Applications"
Getgossipz.com
Seeking capital of $1,000,000
2.5
"We Juice Big Data"
Angel.co/2-5
Seeking capital of $740,000
23 Press
"Making Blog Management Easier For Humans"
23press.com
Seeking capital of $500,000.
As part of [IN]cubes catch and release policy, with the graduation comes a whole new group of startup applications for INtake 2. So far the team has received over 80 applications pre-INtake 2 launch.
About [IN]cubes
[IN]cubes is a Toronto based incubator that sources emerging entrepreneurs and talented startup teams, and graduates qualified businesses with innovative products and ideas towards their first round of capital. [IN]cubes works with the most forward-thinking and grassroots talent with the goals of transforming their new and disruptive technologies into international sensations. For more information, visit http://INcubes.ca.
# # #