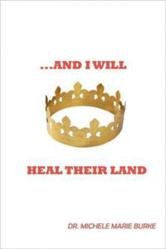 Bloomington, IN (PRWEB) March 03, 2012
According to some observers of today's culture, the excellence that once shone from the shores of America is quickly fading. In a recent New York Times column – "Decline of American Exceptionalism" – Charles M. Blow writes, "Are we 'chosen by God and commissioned by history to be a model to the world' as George W. Bush said? This year, for the first time, most Americans did not say yes." Dr. Michele Marie Burke's new Christian non-fiction book, "…And I Will Heal Their Land" (published by WestBow Press), offers readers some much-needed encouragement and inspiration in these trying times.
Burke finds quite a bit to be concerned about with the state of the nation. She says, "We have lost even the semblance of order in our nation in a very short number of years." With her new book, she seeks to offer Christian solutions to the problems plaguing many in the United States today.
"Now is the time to arise equipped and empowered to return to a godly order within our shores, to once again dedicate our land to the Christian principles on which it was founded," says Burke. "Now is the time to humbly repent, turn from our wicked ways, pray, and seek His face that He will hear from heaven and heal our land before it is too late."
Suggesting ways to allow readers to transform their lives, Burke never sways too far into the realm of religion. She values faith and personal relationship with God first and foremost, from which all else flows. Her advice centers on helping readers balance their lives-spiritually, physically and emotionally in the midst of a fast-paced world. As Burke says, "This book is a back to basics Christ-centered training manual for today's spiritual and political climate."
About the Author
Dr. Michele Marie Burke holds a Doctorate of Ministry in Theology and leads Esther's Warriors Ministry comprised of men and women praying across our nation. Mentoring, teaching and coaching people, she works across denominational lines to encourage a spirit of unity in the body of Christ. Burke lives in upstate New York with her Brussels Griffon, Benjamin.
WestBow Press is a strategic self-publishing alliance of Thomas Nelson, the world's premier Christian publisher, and Author Solutions, Inc. (ASI)—the world leader in the fastest-growing segment of publishing. Through this partnership, authors benefit from the rich publishing heritage of Thomas Nelson and the speed-to-market advantages of the ASI self-publishing model. Titles published through WestBow Press will be evaluated for sales potential and considered for publication under the Thomas Nelson imprint. For more information, or to start publishing today, visit westbowpress.com or call 866-928-1240.