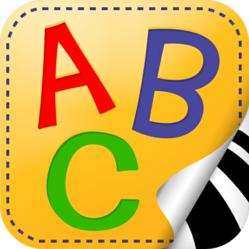 Santa Barbara, CA / Offenbach, Germany (PRWEB) March 01, 2012
zuuka, publishers of the iTalk and iStoryTime interactive storytelling apps, has partnered with bestselling children's brand Wee Sing to release the Wee Sing & Learn ABC App for iPad, iPhone and iPod touch. An entertaining and educational tool, the new Wee Sing & Learn ABC App combines original music, animated animals and musical instruments from A to Z, and read-along text to provide parents fun and creative ways to help their children learn the ABCs.
Wee Sing has sold over 60 million books, albums, and live-action videos over the past 30 years. A leader in preschool learning through music, Wee Sing is recognized as one of the world's most beloved children's brands.
Music educators Pam Beall and Susan Nipp, the creators of Wee Sing, understand that kids love to learn through music and repetition. "The interactive graphics, narration, and music in this app will enhance their language development, listening skills, and retention in such a fun way," said Nipp. Beall adds, "The Wee Sing & Learn ABC app effectively teaches letters and language through the use of music along with charming animation and genuine sounds to explore."
Not only are children learning letters and beginning reading, they are interacting with animals and instruments. The real sound of each animated animal is heard, the sounds having been gathered from animal recordings from around the world. And the real sound of each pictured instrument is heard, played on instruments that were collected from across the globe.
"We all know how important the ABC song is to learning the alphabet, especially at an early age," said Graham Farrar, founder of zuuka. "The Wee Sing & Learn ABC App offers audio and visual cues to engage children and get them excited about the alphabet and more than anything, it encourages exploration and learning retention for one of the foundations of education - the ABCs."
Wee Sing & Learn ABC's features include:
Read Along – Narrator reads and sings a song for each letter, the animal and instrument sounds are heard. Press additional buttons for more words that start with that letter.
ABC Song – Follow the letters of the ABC song set to narration and music.
Explore ABC – Explore the alphabet by pressing on the letters to hear them spoken aloud.
Play Along – Try to keep up with the ABC song by pressing the letters in rhythm with the instrumental accompaniment.
Explore Animals – See an animal and instrument associated with each letter of the alphabet and hear their sounds.
Pricing and Availability:
The Wee Sing & Learn ABC App is available for $3.99 USD from the App Store on iPad, iPhone and iPod touch or at http://www.itunes.com/appstore.
About zuuka
zuuka publishes zuuka Comics, iTalk and iStoryTime - an interactive storytelling experience delivered to the convenience of your mobile device - which features a series of illustrated and narrated books created by parents for kids. iStoryTime books have been highlighted in the New York Times, LA Times, CBS Early Show, theiPhoneMom.com, CNET and is decorated with Publisher's Innovation Award, PTPA Media's Parent Tested Parent Approved Seal of Approval, the Children's Technology Review's Editor's Choice Award and Reader's Choice for Best Apps for Kids. With over 100 titles to choose from including favorites such as Kung Fu Panda, Shrek, How to Train Your Dragon, Peter Pan and Binky the Pink Elephant, iStoryTime books are an excellent tool for both educating and entertaining children ages two years and up. These storybooks can be enjoyed in several different modes ranging from automatic to manual, depending upon the development and preferences of the user. For additional information, visit http://www.iStoryTime.com.
About Wee Sing
Over thirty years ago, two music educators published a children's songbook and called it Wee Sing. More than 60 million books, albums and live-action videos later, Wee Sing is recognized as one of the world's most beloved children's brands - and a leader in preschool learning through music. Wee Sing has received multiple awards including Parent's Choice, National Parenting Center Seal of Approval, and Film Advisory Board Award of Excellence. It has been in the "top Picks" for TV Guide's Parents' Guide and People Magazine's Picks and Pans. Wee Sing has been featured in dozens of magazine and newspaper articles including People, The Wall Street Journal, Billboard, USA Today, and the Boston Globe. You can visit Wee Sing at http://www.weesing.com.
###