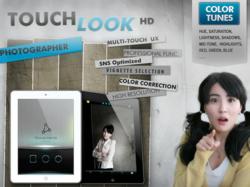 Seoul, South Korea (PRWEB) March 01, 2012
Colortive's wildly successful Touchlook application has brought user-friendly photo editing to iPhone and iPod Touch users around the globe. They are now thrilled to widen their reach to encompass and welcome a whole new level of users, as they introduce Touchlook for the iPad. Providing professional level editing while remaining novice-accessible for a limited time offer of $2.99, this application has reinforced its star quality with this launch.
Touchlook allows the user to control, alter, improve, and save a number of variables in any uploaded photograph. With this application, any quick-snapped photograph has the potential to be a masterpiece, and every user has the potential to be an expert. Editing options included in the application are color saturation, vignette controls, shadow, and hue, and all produce results with effortlessness and quality. The application offers three geometric shapes – a circle, a triangle, and rectangle – for optimum user control over the editing. While the iPhone and iPod Touch are great vehicles for Touchlook , the iPad allows the editing to be used on a larger scale, and with even more precise results. With the increased "canvas" size, the user is able to not only isolate and change different areas of the photo, but also be able to see those changes and the final product more clearly. Saving and sharing those photographs is also incredibly easy with the iPad.
Coloritve is understandably ecstatic about this next step with their Touchlook application. At the amazing introductory price of $2.99 in the iTunes App Store for the iPad, there's going to be a huge group of consumers that's going to be just as thrilled when they discover just how easy and exciting photo editing can be with this application.
iTunes Link: http://itunes.apple.com/us/app/touchlook-hd/id504244133?mt=8
###