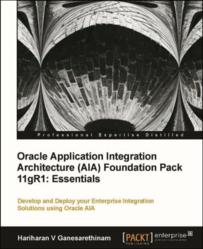 Birmingham, UK (PRWEB) March 03, 2012
Packt Publishing, one of the world's leading publishers of Oracle books is pleased to announce the publication of Oracle Application Integration Architecture (AIA) Foundation Pack 11gR1: Essentials. Packed with illustrations and tips, this book helps readers to understand the important concept of Enterprise Business Objects which play a crucial role in AIA installation and models. The book is available in print and ebook formats now.
Oracle AIA Foundation Packs provide an open standard data model, templates and methodologies to build integrations and processes for enterprise applications. Oracle Application Integration Architecture (AIA) Foundation Pack 11gR1 focuses on the fundamentals of integration, the AIA approach to integration and various integration components in AIA. This book is developer- friendly as the structure of the book explains each component right from architecture to development.
This comprehensive guide focuses on components from Enterprise Business Objects (EBO), Enterprise Business Message (EBM), Enterprise Business Services (EBS), Application Business Connector Service (ABCS), and Enterprise Business Flow (EBF). It also talks about AIA security, version management, design patterns, error handling, and centralized repository.
Through this book, readers will learn to design and develop service contract and endpoints by using EBM and EBS, and identify and enable security for the AIA infrastructure by using various security models. They will learn how to use Oracle BPEL to design and develop integration processes as per AIA standard.
About Packt:
Packt Publishing is one of the world's leading Publishers of Oracle titles having published more than 70 Oracle books across a wide variety of areas including the Database, Fusion Middleware and Business Applications. Some recent titles include:
Oracle Service Bus 11g Development Cookbook
Oracle Essbase 11 Development Cookbook
Oracle JDeveloper 11gR2 Cookbook
Oracle Database 11gR2 Performance Tuning Cookbook
Oracle Hyperion Interactive Reporting 11 Expert Guide
The complete Oracle Books Catalogue can be found on the Packt website. Packt Publishing offers all titles in both hardcopy, eBook, Kindle, and online Library formats.
# # #