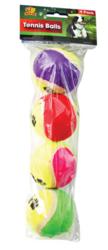 Brits spend £14.9 Billion a year on their pets
(PRWEB UK) 2 March 2012
Wholesaler Benross Ltd has today announced their launch of the range of pet products for the summer of 2012 that is now fast approaching.
British newspaper 'The Mirror' recently reported that, "Brits spend £14.9 Billion a year on their pets." This shows how much people love to spoil their pets, and the high demand for retailers to have toys, treats, and a number of other products on offer for their customers. Benross Ltd is helping retailers to buy wholesale products to satisfy customer demand for pet products at a profitable low cost.
Because a dog needs to be walked in order to stay healthy, owners will start to increase their fitness simply by taking the dog out a few times a day. And for those who really want a dog to help them lose some weight, running along bridleways or biking with the dog is an even better way to spend time both with a pet and staying healthy. This gives retailers the opportunity to buy wholesale and update their stock with the new pet products on offer from Benross Ltd, with goods such as wholesale dog collars, leads and more.
Wholesale dog collars and leads are something that every dog owner needs, and when there's the opportunity to get out in the sun more, most people will take it. This can result in dogs getting through quite a lot of leads and collars thanks to running around in the wilderness and pulling too hard when owners want them to stop. Benross Ltd.'s range of these products will mean that retailers have all of the wholesale dog leads they need for long walks in the sun this summer.
Having new products for customers is very important for retailers, because their stock will seem stale and old if it is the same all year round. For this reason Benross Ltd has so recently introduced new wholesale pet toys into their ranges, meaning that retailers can supply customers with all of the new indoor pet toys that they need.
One new product is the Durable Tennis Ball, designed specifically to be hard wearing and able to withstand the constant chewing that a dog gives all of its toys. This toy will not only bring hours of fun to dog owners and dogs alike, but it will also give owners the chance to keep fit and work on their throwing technique. Retailers will be able to provide these to all of their customers at a low cost and gain their repeat business thanks to the quality of the products.
All pet owners know that making sure their pet is tired at the end of the day is essential if they want them to be well behaved, a dog that is full of energy at bed time will whine through the night and interrupt owner's valuable sleep. Wholesaler Benross Ltd provide retailers with a wide selection of beds, blankets and houses for their customers to use to ensure that pets get a good night's sleep as well as their owners.
Benross Ltd is a wholesaler that sells to retailers via its website. Benross continue to update their range six times a year so that retailers will have the very best products to offer on their shelves. Williams Commerce, a provider of Benross Ltd.'s SEO services, built Benross Ltd.'s website and recently reported an increase in website visits by 8200%.
###