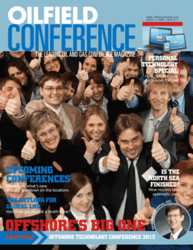 Exciting and fresh. A great read for all levels of industry experience.
Aberdeen, UK (PRWEB) March 01, 2012
Oilfield Conference (http://www.oilfieldconference.com/) today announced the launch of the only oil and gas magazine written solely on oil and gas conferences and related news. The magazine is unique in the sense that it appeals to technical professionals in the oil and gas industry who attend or are interested in attending oil and gas conferences and exhibitions around the world.
The revolutionary new magazine also covers key oil and gas news that are connected to topics and presentations at upcoming conferences. The magazine is also set to share travel and technology information that are vital for the traveling oil and gas professional. Readers can also anticipate tips about the locale around the conference written by top industry travel writers. The reader's report is where users share conference and travel experiences with other readers in the publication.
The magazine will be published bi-monthly, with the inaugural issue launching in February and subsequent issues to be published in April, June, August, October and December. Although the magazine is primarily digital in format, interested individuals will be able to order a hardcopy, thanks to a dynamic partnership with HP (MagCloud), allowing for the printing and shipping of hardcopy magazines to customers.
Blackberry, iPad and Android users can also download a free app (MagCloud) to download and enjoy the magazine.
Readers obtain valuable information including:
➢ Key industry news tied to upcoming conferences.
➢ Dates, locations and themes of upcoming oil and gas conferences
➢ Travel and accommodation tips for specific conferences
➢ Reports and insights from professionals who have attended conferences
➢ Opportunities for networking between professionals
➢ Opportunities for professionals to voice their opinions on all matters concerning oil and gas conferences
About Oilfield Conference
Founded in 2008, Oilfield Conference is a privately owned international publishing house producing publications for the oil and gas industry. We are located in Aberdeen, Scotland, UK. As the most widely used oil and gas conference directory, Oilfield Conference features conference news each year from all of the most popular international oil and gas conferences and exhibitions. For more information, visit http://www.oilfieldconference.com/.
Source: Oilfield Conference
Contact:
Adesope Babaniji
3rd Floor, Riverside House
Riverside Drive,
Aberdeen, AB11 7LH
Scotland, UK
Tel. No.: +44 1224 224410
###