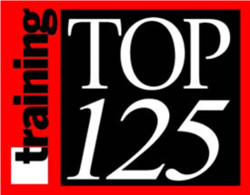 "This is a testament to our exceptional training and development programs that continue to evolve and grow," said Pamela Morris, President and CEO
Dayton, Ohio (PRWEB) March 01, 2012
CareSource, a public-sector managed care company, was recognized for a third year in a row as one of Training magazine's Top 125 companies that excel at staff development and training.
CareSource, listed at 14 on the Top 125 list, joins the ranks of some of the nation's largest and most successful organizations including Farmers Insurance, the United States Navy and Coldwell Banker. CareSource was honored at the awards gala held February 13 at the Training 2012 Conference & Expo in Atlanta. The past two years, CareSource has ranked in the top 15.
"We are honored and extremely excited to be recognized again," said Pamela Morris, President and CEO. "This is a testament to our exceptional training and development programs that continue to evolve and grow."
With choices from more than 500 curriculum offerings, CareSource University provides a full-service career planning and development resource to all employees, including clinical licensure programs, new employee training, leadership and career development and coaching.
"Our organization is unique in that we place a high emphasis on learning and career development," stated Jaclyn Smith, Vice President of CareSource University. "I believe successful organizations, like CareSource, realize the importance of training their employees as well as offering ongoing coaching and development programs. I am honored to be a part of an organization that places such a high value on employee development."
Two CareSource employees expressed the importance of ongoing training and development firsthand.
"Over the years I have had the privilege of working for several large Fortune 500 companies, but none of them had a training program as relevant and accessible as CareSource's," Mark Quick, Business Analyst, stated.
"I am grateful for the opportunities I have been given to learn and grow," said Heather Boehmer, Grievance and Appeals Specialist. "The skills I have gained through the development classes have not only helped me earn a promotion and grow professionally, but have led me to take a far more active role in my own destiny."
Training magazine selects 125 global and national organizations annually that exhibit best training practices, evaluation methods and outstanding training initiatives. Honorees range in size from Fortune 500 companies to smaller organizations of 100 plus employees. Judging is based upon elements such as scope of development programs, financial investment in employee development, and how closely training efforts are linked to business goals and objectives.
"We are honored to be recognized again and to be in the same category with nationally known organizations," Smith added. "We look forward to continuing to train our employees in a way that is innovative, personalized and immediately applicable to our organizational objectives."
Top fifteen award winners:
1. Verizon
2. Farmers Insurance
3. Miami Children's Hospital
4. Mohawk Industries, Inc.
5. McDonald's USA, LLC
6. The Economical Insurance Group
7. ABF Freight System, Inc.
8. BB&T Corporation
9. Coldwell Banker Real Estate
10. McCarthy Building Companies, Inc.
11. The PNC Financial Services Group, Inc.
12. Jiffy Lube International
13. United States Navy
14. CareSource
15. Edward Jones
About Training magazine
Training is a 48-year-old professional development magazine written for training, human resources, and business management professionals in all industries that advocate training and workforce development as a business tool. Training also produces world-class conferences, expositions, and digital products that focus on job-related, employer-sponsored training and education in the working world. Training is published by Lakewood Media Group.
About CareSource
CareSource is a non-profit health plan founded on the principles of quality and service, delivered with compassion and a thorough understanding of the Medicaid consumer. By staying true to its mission of making a difference in the lives of underserved people by improving their health care, CareSource has become one of the largest and fastest growing Medicaid managed care plans in the nation. Today, CareSource serves more than 900,000 Medicaid and Medicare Advantage consumers in Ohio and Michigan.
With a strong focus on preventive care, CareSource utilizes a continuum of care model to members at all stages of health and illness. In addition to all required services, CareSource offers extra benefits such as a 24-hour nurse advice line, transportation to doctor's appointments, and a variety of care management programs. For more information about CareSource, visit http://www.caresource.com.
###