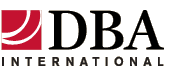 DBA International members represent the very best professionals in the accounts receivables management industry.
SACRAMENTO, CA (PRWEB) March 01, 2012
DBA International, the voice of the debt buying industry, announced today its Board of Directors has unanimously approved a process to create a National Debt Buyer Certification Program.
The program is intended to be a comprehensive resource for DBA member companies to receive training and continuing education that ensures they are adhering to best practices, the DBA Code of Conduct, and state and federal regulatory standards. DBA members that complete the Certification Program and demonstrate full knowledge of the laws and best practices will receive the designation of "Certified Debt Buyer" (or CDB).
"DBA International members represent the very best professionals in the accounts receivables management industry. A Certification Program will validate that debt buyer organizations subscribe to standards that will assure credit grantors, other debt buyers, collectors and consumers that they are working with the very best in the industry," said Michael Bendickson, president of DBA International and CEO of Absolute Resolutions Corp.
To initiate the process, DBA International is forming a Debt Buyer Certification Task Force chaired by Stacey Schacter, president of Vion Receivable Investments. The Task Force will work with representatives of the debt buying industry, credit grantors and issuers, government agencies, and other interested parties to determine the structure and components of the Certification Program. Those components include creating an examination and annual continuing education program for DBA members.
The Debt Buyer Certification Task Force is expected to report to the DBA Board this summer its outline and feasibility for the program's elements, with implementation expected to begin early next year. "Creating a Certification Program can be complex, but DBA understands how important a program will be to assure everyone that the debt buying industry is comprised of credible organizations which respect consumer rights and that play a vital role in our nation's economy," Schacter said.
Adds Jan Stieger, executive director of DBA International: "DBA International, as a leader within the industry, has ensured, and will always ensure, that our membership is receiving the most comprehensive resources to be compliant with government standards. We believe the creation of a Debt Buyer Certification Program is simply the next logical step by offering our members a uniform industry standard by which they should abide."
About DBA International
DBA International is the trade association and voice for the debt buying industry. DBA sets ethical and business conduct standards for the industry. Debt buyers are financial institutions that purchase uncollected accounts from originating lenders for less than the face value of the debt. Debt buyers are therefore able to settle debts with consumers at deep discounts. This allows a consumer to improve their credit record and, by doing so, to increase their access to, and reduce their cost of credit.
For more information, contact http://dbainternational.org
###