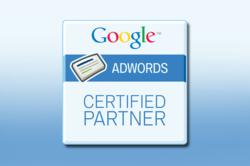 Sellersville, Pa. (PRWEB) March 12, 2012
The Simon Group Inc., an award-winning, full service business-to-business marketing communications agency specializing in high tech and industrial accounts, is now a Certified Partner in the Google AdWords Certification Program. The company's profile is available in the Google Partner Search.
The Simon Group has maintained individual qualification in the Google AdWords Certification Program since April 2011, specializing in Google advertising fundamentals, including campaign management as well as advanced search advertising optimization.
"Achieving this ranking is no small feat; individuals need to complete online training and testing via Google to demonstrate their comprehensive understanding of the AdWords program," says Dave Lesser, president of The Simon Group. "Because of the importance of paid search to our clients' businesses, we need to stay on top of the latest developments, and this certification helps us to do that."
Google AdWords, a pay-per-click search advertising program, helps advertisers create simple, effective ads to be displayed with organic search results when a user searches for keywords on Google relevant to the advertiser's business. A Google AdWords Certified Partner has demonstrated proficiency of use in the advertising program and advanced knowledge of at least one of four specific areas of the program by at least one individual employee as well as managed $10,000 or more in AdWords campaigns in the last 90 days.
Founded in 1986, The Simon Group Inc. specializes in marketing high technology and industrial accounts, particularly in the electronics, instrumentation, military/aerospace, construction and test and measurement industries. Headquartered in a restored 18th century fieldstone farmhouse in Sellersville (Bucks County), Pa., the agency has clients throughout the world.
For more information, please contact Beth Smith, vice president of PR, The Simon Group Inc., 1506 Old Bethlehem Pike, Sellersville, Pa. 18960. Tel: 215-453-8700; Fax: 215-453-1670; Email: publicrelations(at)simongroup(dot)com; Web: http://www.simongroup.com.
For high res download and full text:
http://www.simongroup.com/PressRoom/press-release.php?Job=TSG-A-2135
For more news releases: http://www.simongroup.com/PressRoom/simongroup.php