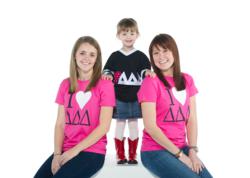 Arlington, TX (PRWEB) March 01, 2012
Members of Delta Delta Delta will be coming together throughout the month of March to celebrate the Fraternity's long-standing partnership with St. Jude Children's Research Hospital. Since the partnership began in 1999, Tri Delta has donated over $17 million for the kids at St. Jude. During the 2010-2011 academic year, Tri Delta raised more than $3.5 million dollars.
"We are so proud of our members for embracing the mission of St. Jude and continuing to raise the bar with our fundraising efforts," said Fraternity President Jackye Brown Clark, Texas/Arlington.
The goal of the month is to promote awareness about the cutting-edge research that the hospital provides, and to share St. Jude's mission and message within the communities where our alumnae live and throughout the college campuses.
"We strive to support St. Jude not just financially, but socially as well. It's important to us to raise awareness about St. Jude's work, not just within our own membership, but within the general public," said Jackye.
In July 2010, Tri Delta announced it would take on a new, more aggressive challenge – to raise $15 million in 5 years to name the Specialty Clinic located in the Patient Care Center at St. Jude. So far, $5.7 million has been donated towards the $15 million goal.
"No family ever pays St. Jude for anything and because of the support of organizations like Tri Delta, St. Jude can continue to cover the cost of treatment, food, transportation and lodging for patients and a family member," said Richard Shadyac, Jr., CEO of ALSAC/St. Jude Children's Research Hospital. "It's amazing that Tri Delta has dedicated the month of March to recognizing this partnership and we are excited to cheer them on as they continue to work towards their new $15 million in 5 years fundraising goal."
Learn more about Tri Delta's $15 million in 5 years campaign and the Specialty Clinic through this video.
Check out Tri Delta's St. Jude Facebook tab to learn more about the partnership and the schools that are leading the way in fundraising for the 2011-2012 academic year.
About Tri Delta
Founded in 1888, Tri Delta is a leader among social Greek organizations through its passion for progress and visionary thinking. Through partnerships with nationally recognized organizations like St. Jude Children's Research Hospital, award-winning publications like The Trident, and innovative collegiate and alumnae initiatives, Tri Delta is committed to leveraging our timeless values to revitalize the sorority experience. For more information, please visit http://www.tridelta.org or call (817) 633-8001.
About St. Jude Children's Research Hospital
Since opening 50 years ago, St. Jude Children's Research Hospital has changed the way the world treats childhood cancer and other life-threatening diseases. No family ever pays St. Jude for the care their child receives and, for every child treated here, thousands more have been saved worldwide through St. Jude discoveries. The hospital has played a pivotal role in pushing U.S. pediatric cancer survival rates from 20 to 80 percent overall, and is the first and only National Cancer Institute-designated Comprehensive Cancer Center devoted solely to children. It is also a leader in the research and treatment of blood disorders and infectious diseases in children. St. Jude was founded by the late entertainer Danny Thomas, who believed that no child should die in the dawn of life. Join that mission by visiting http://www.stjude.org or following us on facebook.com/stjude and twitter.com/stjude.
###