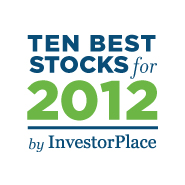 Rockville, Md. (PRWEB) March 02, 2012
The InvestorPlace.com 10 Best Stocks for 2012 has blown away the broader market so far this year. As of the market close Feb. 29, the Dow and S&P were up 6% and 9% year-to-date, respectively, while the Buy List averaged a stunning 18% gain.
The Buy List, which includes buy-and-hold recommendations from a group of money managers, market experts and financial journalists, is free and open to the public, and the contributors will follow their recommendations throughout the year with regular updates.
Topping the list for the second month in a row is MAKO Surgical. Recommended by Motley Fool co-founder David Gardner, shares of MAKO Surgical, a medical device company, are up 55% year-to-date as of the market close Feb. 29.
Year-to-date returns for the other nine stocks, as of market close Feb. 29, are:
#2: Caterpillar, up 26%. Recommended by Dan Burrows, CBS MoneyWatch columnist
#3: Microsoft, up 22%. Recommended by James Altucher, founder of Stockpickr
#4: Capital One, up 20%. Recommended by Philip van Doorn, banking and finance analyst for TheStreet
#5: Alcoa, up 18%. Recommended by Jeff Reeves, InvestorPlace.com editor
#6: Turkcell, up 16%. Recommended by Charles Sizemore, money manager and editor of The Sizemore Investment Letter
#7: Banco Santander, up 10%. Recommended by Jim Jubak, money manager and author of the stock-picking blog Jubak Picks
#8: FedEx, up 8%. Recommended by Paul La Monica, CNNMoney editor and author of The Buzz market column
#9: Arcos Dorados, up 2%. Recommended by Josh Brown, author of The Reformed Broker blog
#10: Hershey, down 1%. Recommended by Jon Markman, award-winning financial journalist, newsletter writer and trader
For the latest stock standings and to follow the competition, visit: http://www.investorplace.com/best-stocks-for-2012/.
###