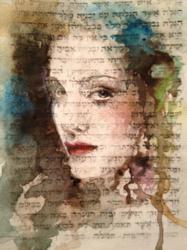 I 'LIKE' To Fight Cancer
New York, N.Y. (PRWEB) March 06, 2012
Pioneers For A Cure - Songs To Fight Cancer has released a new free interactive Purim Megillah for iPad in time for the Holiday. Using Apple's new iBooks Author program and illustrated by fine artist Mira Sasson, the Purim Megillah contains the entire text of the traditional story in English and Hebrew. There's also a 'Grogger' (noisemaker) built in on those pages where the evil Haman's name appears.
Mira Sasson's new and original watercolors bring fresh context to the story of the Jews overcoming the threat of Genocide in the ancient Persian Kingdom. Inspired by contemporary figures, the faces of the main characters appear familiar. The Iranian Ahmadinejad appears as the Persian Haman. The modern Esther, Modonna, can be seen in Queen Esther's face, while Katy Perry looks like the former Queen, the beautiful Vashti. Sir Ian McKellen serves as the basis for the King Ahashverosh and the face of the story's hero, Morachai, is actually drawn from a somewhat less contemporary source, Rembrandt's self portrait.
The interactive iBook also contains two Purim songs to fight cancer as a bonus. 'Biblegum' Pop duo Stereo Sinai have updated an Israeli pioneer song from the early 20th century as a new 21st century dance track, ala Lady Gaga. 'Purim Hayom' (Today is Purim) supports the American Lung Association. Great-Grandfather Sam Halpern provides an authentic and traditional version of the Purim prayer 'Shoshanous Yaakov', accompanied on accordion by Zevy Zions and Produced by Rabbi Greg Wall.
Pioneers For A Cure's new Facebook campaign is 'I LIKE to fight cancer'™. Each LIKE that Pioneers For A Cure receives on it's Facebook page until May 1st will cause $1 to be donated to the cause. There's a match for an additional $10,000 if the total of LIKEs reaches 10,000 by April, 29th, which is the 3rd Anniversary of the original Pioneers For A Cure - Songs To Fight Cancer website.
Pioneers For A Cure - Songs To Fight Cancer is the largest showcase of cancer charities on the web. Called '[A] stellar model of artist-driven grassroots philanthropy' by National Geographic, the non-profit project records public domain songs, reinterpreted and made available for donations of as little as $1.99. This treasure trove of over 100 songs has been recorded by dozens of artists from around the world including Suzanne Vega, Ben E. King, Tom Chapin, Tom Verlaine, Matt White and David Broza. Fine artist Mira Sasson has painted the Pioneer Portraits of the singers, which are made available as US Postage Stamps to fight cancer. Proceeds from song downloads are donated to artist-selected cancer charities such as the American Cancer Society, St. Jude Children's Hospital, the Breast Cancer Research Foundation, and Susan G. Koman for the Cure.
###